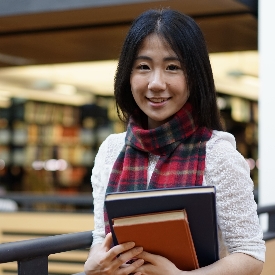 Kuan Lu
Country Of Origin: China
Degree: MSc International Business, 2015
---
ASLP Associate, Apple
---
I spent a lot of time researching for the best available university to pursue my Master's degree. Studying MSc International Business at LUMS was one of the smartest decisions I made throughout my academic life, which also helped significantly towards my career ambition.

Studying at a triple-accredited, world-ranked management school, LUMS has equipped me with the knowledge and skills that improve not only my academic capabilities but also my professional expertise. Moreover, I enjoyed the most of my student life by participating in a variety of extracurricular activities, where I made a lot of good friends and turned my year at Lancaster University into an unforgettable experience.
I specifically chose the MSc International Business programme because it perfectly fit my goal of developing a career at a leading multinational company. A mixture of extensive modules from the programme provided me with possibility to focus on my pathway, which I am interested in the most and it helped me fully understand my potential and strength. This particular programme has a good balance of classroom-teaching and self-research components, stressing on strategies applied by companies in a complex and international business environment. Therefore, I have developed a comprehensive understanding of intentions behind strategic decision making and drivers of international trade by a combination of principal trade theories analysis and up-to-date practical case studies.

In addition, I truly value the multicultural atmosphere at LUMS, where I worked closely with students from all over the world. I am grateful that the programme offered me the opportunity to meet such amazing people. The teamwork, brainstorming, and even debating with my classmates greatly enhanced my global perspective and cross-cultural awareness. The ability to cooperate with individuals from different backgrounds turned out to be my best asset during the following assessment centre for my current position at Apple.

After graduating with my Master's degree from LUMS, I was selected as a qualified candidate for one of the most competitive programmes, the Apple Store Leader Programme. I am accomplishing my rotations through various functions at the Apple stores and applying all what I learnt from MSc International Business to the real business world. During the second year at Apple, my focus will be turned to leadership roles and working with top-level managers as my coaches and mentors.

I strongly recommend students visit the LUMS Careers team. They are professional and very supportive to provide dedicated careers service and helped me get prepared for each stage of my applications. I think they are definitely the people you can trust and feel amazing to work with.