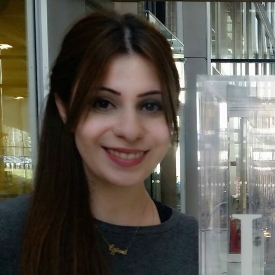 Elina Ioannou
Country Of Origin: Cyprus
Degree: MSc Mechanical Engineering with Project Management, 2016
LUMS is highly ranked and offers excellent programmes for several career developments. After completing my Bachelor's degree in Mechanical Engineering, I felt the need to expand my knowledge by combining my existing expertise with knowledge of management and business. Having extensively researched opportunities to combine these two fields I finally selected Lancaster University and the course of MSc Mechanical Engineering with Project Management. LUMS is highly ranked in the business and management field and I believe it was the best selection I have ever made.

MSc Mechanical Engineering with Project Management was a really interesting programme. Throughout the modules I developed my team work and communication skills. I learnt how to be an equal member in a team and also improved my presentation skills. Furthermore, the lecturers for the project management modules were very helpful and enthusiastic for their field. They have made me more interested and fascinated to this particular field.

There are many cafés, bars, pubs, restaurants and a sporting centre on campus, which I feel all the students need in order to have fun. I have enjoyed those areas when I have needed a small break from my studying or when I have had days off. Lancaster city centre is also very near to the University and is easily accessible within a few minutes by bus.

My experience at Lancaster University was the best in my academic life. Lancaster University gave me many opportunities to develop and improve myself. I strongly recommend Lancaster University to those who want to make the best investment in to their studies and gain new opportunities in a highly ranked university. My Master's degree has provided me with the knowledge and skills of project management and leadership in addition to advanced mechanical engineering skills, which I am confident are a passport to gain project managerial positions in the future and succeed at entry into many jobs.

I have used careers fairs and I was very satisfied with all of the staff as they were very friendly and provided me with very useful and helpful advice regarding my CV and cover letter. I am currently applying for job opportunities in UK. I feel confident that I can do well in many jobs as I have gained a lot of useful skills from Lancaster, which can help me land my dream job.