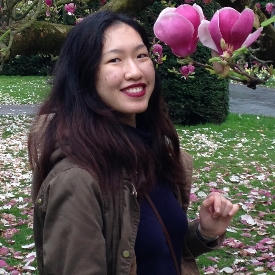 Audrey Lye
Country Of Origin: Malaysia
Degree: MSc Finance, 2016
---
Graduate Auditor, KPMG
---
I studied my undergraduate degree in Accounting and Finance in Sunway University Malaysia. My course was partnered with Lancaster University. Over the course of 3 years, the reputation of Lancaster University grew and I had heard a lot about the University's prestigious Accounting and Finance programmes. After my first year in Sunway in 2013, I also had the opportunity to attend the Lancaster University Summer Programme, organised by Sunway University. This was my first time at the Lancaster University campus and I was really impressed by the campus and the quality of student life. Moreover, I also found particular interests in the Finance modules in my undergraduate degree. Hence, I decided to pursue my MSc Finance degree at Lancaster University.

The best thing about the Master's programme was the diversity of my course mates. I have had the opportunity to meet so many new people and befriend people from various cultural, educational, and professional backgrounds. The programme also encouraged me to integrate and work with people from different backgrounds in group assignments by allocating us in our teams in the Michaelmas term. This allowed me to learn to work with and learn from various people and how to handle conflicts as a team.

LUMS also understood that whilst some people preferred group work, there were also others who preferred a balance between having individual work as well as group work. I particularly enjoyed the Business Ethics module because of the way the course was structured. There was a mix of group activities as well as individual assignments. We were required to do a presentation every week on topics from the previous lecture. Although the workload was heavy, it kept me on my toes every week making it a lot easier to study for my final exams. Moreover the module was conducted with undergraduate students, which I found refreshing because it was also another opportunity to meet and work with new people.

I loved the fact that the campus is located in the countryside. It helped me to focus on my studies without the distractions I would've had in a big city. I love how green the campus is and how we have our own little community. Although the degree was a lot of work, there was always time to have drinks with friends and take a break. As most of my course mates live on campus, it was easy to get together for dinners and parties. This helped me overcome the stress of studying and battle the homesickness that occasionally was an issue for me. I love how everyone I met were so friendly and so open to meeting new people. This has helped me to break comfort zones and be more adventurous about trying new things. I was also fortunate to meet my better half in Lancaster. With his unwavering support, he has been with me through thick and thin and has been my source of joy and comfort.

The most fun aspect of life at University was definitely the social life on campus. I love how close I lived to the Grad Bar and how it was always alive with people almost any time of the day. There was never a time that was deemed unsuitable to grab a pint, have some cocktails and chat with friends. I was also fortunate enough to experience the Euros in 2015 in the Grad Bar. The energy and suspense is refreshing and it was always fun to watch a match with a large group of people. This was the same with the Eurovision. I had never heard of such a singing competition and it was so refreshing to see everyone on campus being so excited about the event. I even had a chance to vote for my favourite singer.

My experience at Lancaster was very fulfilling. No doubt there was a lot of work and effort put into the year, but at the end of the day it was all worth it. I am very fortunate to have met and made many friends and also given the opportunity to learn from established professors. I had to juggle through exams, assignments, job applications, and a dissertation. It was not an easy journey but I have come out having experienced so much in such a short period of time. I learnt to be independent and to be strong, even when I was at my lowest. It was a truly humbling experience and one that I have made good use of.

LUMS Careers was quick to step in at the start of the semester. They made me aware of the job opportunities that were available for international students like me. They held many career fairs and talks about the application process for jobs. As the application process in the UK is very different from what I was familiar with back home in Malaysia, the talks were very informative and allowed me to make the right choices when selecting future employers. I am very grateful for LUMS Careers holding a talk about the Visa process during the start of the semester. It was crucially important for me in selecting the companies that I could apply to. During the career fairs, I had the opportunity to speak to people from within the company in order to gain some brief insights about their work culture.

Before my interview at KPMG, I booked a mock interview appointment in order to prepare myself. The Careers Team gave me the opportunity to experience an interview-like environment and most importantly, I was given feedback about how I could improve myself for the real interview. This helped me tremendously in boosting my confidence. LUMS Careers also organised a KPMG Insight Night which I attended. It gave me the opportunity to meet and speak to actual employees from KPMG. With that, I also managed to impress the interviewer at KPMG about my knowledge on the company.

I will be joining KPMG on their Graduate Programme as an Auditor. I will be working and studying for my ACA qualification for three years. Hopefully after the three years, I will be able to qualify as a Chartered Accountant (CA).

During my time at Lancaster, I learnt to work efficiently and effectively in a team. As KPMG is a very diverse company, this skill will be essentially vital in order to learn and grow. Communication skills will also come to play in such an environment. Lancaster has taught me that communication is an important aspect in succeeding in a team. I am confident that I am better prepared now to enter the working world equipped with stronger survivor skills and the end, also being true to myself.