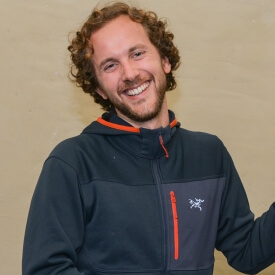 Benoit Perrot
Country Of Origin: France
Degree: Full-time MBA, 2016
---
Energy Product Manager , Jungheinrich
---
My degree before the MBA was in Electrical Engineering. With over 8 years' international work, I started my career as an electrician and mechanic, and then ascended step by step. I have always combined various academic and practical experiences to pursue my interest, develop strength and my career aim. My last role was with General Electric where my last assignment was to manage the commissioning on-site of the electricity production, distribution and electrical propulsion of a new military ship (200 meters long).
By being in the customer frontline, I was unhappy about the performance of project delivery, the commercial techniques implemented, the strategy of the company regarding opportunities and processes adopted. It was always easy to complain, so I decided to move forward and attempted to do it differently. This drive pushed me to pursue an MBA to gain business tools and be exposed to managerial competencies required for a senior corporate leadership role.
To choose an MBA, I visited almost 10 management schools and 4 MBA fairs to meet students, faculty, programme directors and alumni. I tried to broaden my scope by visiting different types of MBA schools to identify which fitted my character and my purpose. I was looking for the best experience to locate practical business curriculums close to actual business dilemmas, with exposure to real case situations, a unique experience to develop a mind-set and practice that would pursue my leadership purpose.
I chose The Lancaster MBA because it incorporated the best balance between the learning capacity, close to the market dilemmas, MBA rankings and fees.
The strength I found during the year was through the small cohort, giving opportunities to challenge each other, the teaching faculty, and the opportunity to practice your management competencies with high speed feedback. I found Lancaster to be a unique place that brings the best learning atmosphere simultaneously with the opportunities to have the London experience multiple times during the year.
I liked the unique Mindful Manager module where you can find all that you need to build the mind-set of a leader. The Core Capability module that imparted self-development approaches to issues or opportunities along with building power in a critical argument. The live case studies with CEO Kevin Roberts, the availability/accessibility of tutors, and management staff who have worked in the corporate world made the business tools taught all the more practical.
Choosing an MBA programme is difficult because it is easy to fall into the marketing trap with numbers and references without knowing exactly what lies in the core of the programme and what you are going to gain from it. To make a good choice, I would recommend being critical and visiting the school. What you then choose will be based on your own intuition of what best fits you.
The Lancaster MBA assisted me in reflecting on my past experience, my successes and failures. It challenges you to be ready to have the experiences that would tackle any business situation. It is a place for people who want to move forward and shape their future. The result is, I now have the confidence to pursue my career aim.