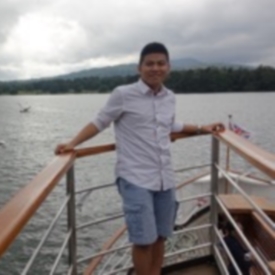 Minh Thang Ho
Country Of Origin: Vietnam
Degree: MSc Advanced Financial Analysis, 2016
---
Investment Analyst, Vietnam Investments Group
---
Before applying for the MSc Advanced Financial Analysis programme, I studied for a Bachelor Degree in Business Studies and I had already passed the CFA level 1 exam. However, with the financial sector changing significantly and becoming increasingly competitive, to break into a career in finance is getting more and more difficult. Thus, I felt the necessity of practicing and applying advanced financial techniques such as research, modeling, or analysis into the real-world setting. The MSc Advanced Financial Analysis programme at LUMS would really provide the knowledge that I needed.

Besides, LUMS is one of a few business schools in the world that has a triple accreditation. It is also a partner with CFA Institute and has a very high place in the Financial Time world ranking in MSc Finance and MBA. This indicated to me that the school had an excellent teaching quality and high-level of training.

The MSc Advanced Financial Analysis programme really equipped me with both practical and research knowledge. The combination of CFA level 2 and the financial modelling module was very practical, providing me with important skills of a financial analyst, such as Excel modelling, equity valuation, effective use of Thomson Reuter and Bloomberg, and also teamwork. In addition, the programme focused heavily on Matlab programming, which significantly supported me in my dissertation and future research.

There are many sport activities and societies at Lancaster University, from swimming, football, tennis to badminton. As the team leader of the Vietnamese badminton club at Lancaster, I connected people together and we felt a lot of fun in every game we played. Also, Lancaster is quite small that I felt the closeness between friends. We had a lot of parties when we were free and also studied day and night in the library when the examinations neared.

The one year of studying at Lancaster is the most memorable year in my student life, a year of pressure in study, but a lot of fun and full of friendship.

I received the Excellent Academic Scholarship and this was very significant to me as a student from a developing country. Studying in the UK was really a financial burden for my parents who had already retired. My parents made many sacrifices so that I could focus on my education and the scholarship really helped reduce the burden for my family and reaffirmed my capacity as well.

The LUMS Career team arranged for me to have some one-to-one conversations with Mr. Paul McCormick about how to write an impressive CV, showing many achievements and at the same time some humility with sufficient "hooks".

Now graduated, I am heading back to Vietnam to work as an Investment Analyst Intern at Vietnam Investments Group, a private equity firm that focuses on high growth businesses in Vietnam. The knowledge gained from financial statement analysis and financial modelling is extremely valuable for the work of an analyst, which involves business analysis, financial forecasting and valuation, supporting M&A advisory and portfolio management. In the longer term, I plan to pursue a PhD in the area of finance, where I could develop my skills in asset pricing, studying the after-cost performance of financial anomalies and the effectiveness of risk management techniques. The skills gained from Matlab programming and use of research databases would help significantly in my future interest.