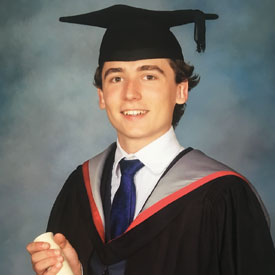 Chris Eagle
Country Of Origin: United Kingdom
Degree: BA Entrepreneurship (with Management), 2018
What was the best thing about your course?
The lecturers. They really do put their all into your education. They are from a diverse set of backgrounds and together hold an immense source of knowledge and expertise. Being a top 10 university, it attracts the best - I do not think I can yet fully value the impact of such experienced and conscientious professors on my development but I can appreciate and recognise the higher calibre Lancaster draws.
Describe your time at LUMS in three words:
Immersive, bolstering, fun.
What are the best things about living in the Lancaster area?
Most students really enjoy living in Lancaster, it's a small quirky place. The affordability of rent and general living costs in the city helps immensely over your student years and allows you to experience a lot more. The city is very small and can feel secluded, but the flipside is that Lancaster fosters such a sense of community that you're unlikely to notice its limited physical size as you spend time with friends. You will relish everything and everyone you know being within walking distance, as well as the prevalent friendly 'student' feel to most of the city and attractions within it.
There's also a diverse range of places less than an hour away: the largely untouched and renowned beauty of the Lake District; the buzzing city of Manchester; plus, several close by seaside towns.
What impact did scholarships/funding have on your degree experience?
A significant impact. If like many students, you are concerned that you may experience the stress and limitations of financial hardship then Lancaster must be one of the best options for easing your situation, as it was for me.
In addition to the scholarships Lancaster automatically provides to all eligible students (with can be worth thousands per year) other funding is also available for a range of purposes during your study, like travel grants for example. Lancaster have consciously made the effort to understand students' needs and attempted to improve accessibility, much more so than many other universities have.
Which parts of your Lancaster experience were the best preparation for your job?
The Entrepreneurs in Residence (EIRs) programme which provides accessible networking with a range of business owners active in many different industries, with businesses of varied sizes. The EIRs are all too willing to help and you can easily connect and discover opportunities with them: such as internships; seeking their advice or assistance on university projects; and job opportunities. They're a genuine network that you can choose to stay in contact with after university.
What impact has your Lancaster experience had on your career?
A very positive one. Whilst studying I was able to make good contacts who aided my development and who I remain in contact with now. I sought my salaried-internship position between my 2nd and 3rd years of studying through a university contact, which was a great developmental role for me and one that I do not believe I could have found outside the university sphere, at that stage in my development. Lancaster has improved my professional ambitions and confidence in myself to go on and achieve.
I really did find my time at Lancaster special and I'm sure anyone else who embraces all that Lancaster is would find the same. I look forward to and feel lucky to be remaining part of the community for years to come.