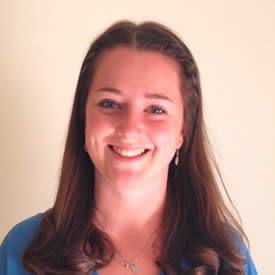 Jemma Cardy
Country Of Origin: United Kingdom
Degree: BSc Marketing Management, 2017
Jemma worked with IBM at their Southbank office in London for her placement year.
Taking a placement year was a no-brainer. There are so many graduates coming out of university with excellent degrees, and in order to stand out you need to do something different. I chose to do a placement year to give me an edge over other graduates and to get a taste of the life that I am investing so much money in academics to get into. My placement year has helped me invaluably with my academic work in final year as I can add a new, realistic perspective to my work, and I feel more confident that I will be able to secure a graduate job, because I have more experience in the field and more knowledge about my ambitions.
My role at IBM was within the marketing department and it was great because I also got to work very closely with the Sales teams. In a nutshell, my job was to support the sales team by enabling them with marketing activities, so that they were prepared and educated to go and sell IBM products and services to their clients. For me, this took marketing to a whole new level, particularly in comparison to what I had learning at university. With IBM being a B2B firm, I discovered a new perspective of marketing, and I loved being able to see the direct outcome of my work .This has given me ambition to go into sales in the future – something I never thought I would say!
The placement experience has been a rollercoaster but overall a fantastic, invaluable experience that I wouldn't change. Yes, there have been ups and downs, but that's all part of the experience and I think it's good to have bumps in the road because it represents the nature of what it's like to work in the corporate world.
A placement year really opens your mind to things that you may never have even thought about before. It was definitely worth doing and for me it was a great experience getting a taste of living in London! Meeting inspiring people is by far the most rewarding part. I know that I have made professional relationships that will be contacts for life, and that counts for a lot in the business world.
IBM is a great place to do a placement year because of the vast range of people you can meet, from a great community of young professionals, to colleagues who have been in the business for over 30 years and have travelled the world with their jobs. I have applied for a graduate scheme at IBM and hope to be offered a job in sales for when I leave university. I will not confine myself to this scheme; I am keeping my options open and applying for other large corporations, along with SMEs too.
I found the preparation for placement module extremely helpful because it put into perspective the importance of preparing and applying for jobs early. The careers team were always happy to look over my CVs, cover letters and application forms which was a great help. I really appreciate the support offered by the careers team. It makes Lancaster University Management School a very special place.