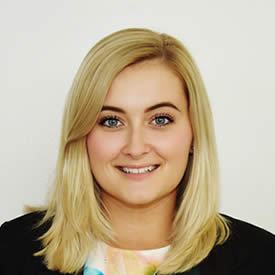 Isabelle Holmes
Country Of Origin: United Kingdom
Degree: BSc Marketing Management, 2017
Isabelle worked as a member of the marketing team at Johnson & Johnsonas a Marketing Assistant, specialising in design.
With the job market becoming increasingly competitive, graduates have to do something to make themselves stand out from the crowd. Completing a placement year gives invaluable experience that I would otherwise have graduated without. I believed that taking a placement would provide me with experience in the 'real' working world, and give me a chance to experience a marketing role before applying for graduate jobs.
I worked as a member of the marketing team as a Marketing Assistant, specialising in design. My role was highly creative and I learnt how to use Adobe Creative Cloud programs such as InDesign, Illustrator and Photoshop. Day-to-day I would support the marketing managers, brand manager, product managers and sales directors (along with any other key stakeholders) in the creation of marketing materials. These materials could range from the creation of logos & brands, email communications, digital artwork, and flyers to the graphics used on event stands and even the branding inside a glass lift! At the start it really did feel like I had been thrown in the deep end; I had so much to learn in a short space of time and I was pretty useless to everyone until I knew how to use the software. This challenging start drove me to succeed and give every task my all.
Working for J&J really didn't feel like I was just the placement student; the rest of the team really valued my work and I was made to feel like a proper full-time employee. Looking back I realise I have learnt more than I realised; little nuggets of information that are highly useful and transferable, but not necessarily something learnt at university, for example; dealing with office politics, interacting with very senior members of the business and achieving a work-life balance. The year has been both fun and challenging, and I've had the opportunity to work with some really inspiring and ambitious people. One of my favourite aspects was the responsibility I was given from day one. At first this was very daunting but I'm now used to it and appreciate the trust placed in me. My work was always varied and always challenging. Two months into placement I found myself being sent to organise a two day sales meeting for the southern sales force in Gloucester (around 70 people) and having to liaise with the hotel, organise and run a charity race night, decide on the bar tab and organise all their meeting rooms was NOT something I expected to have to do. Looking back I'm now I'm glad I experienced it and that it went very well, even running the race night taught me a lot! Spending a year working for such a globally renowned company has been invaluable. I believe the skills and experience I have gained will help me to stand out when it comes to finding a graduate job.
The services provided by LUMS was invaluable. They helped with both my CV and my covering letter and ran a whole series of lectures on employability. Without the help I received from LUMS I doubt I would've gotten the placement I did.