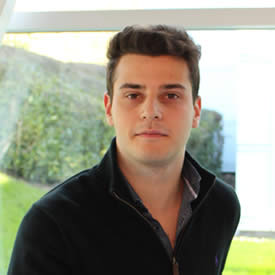 James Newman
Country Of Origin: United Kingdom
Degree: BSc Business Studies (Industry), 2017
James worked within Janssen Pharmaceuticals at Johnson & Johnson for his placement year.
In such a tough competitive environment, it was important for me to apply for Universities which did sandwich courses. I went into University knowing I wanted to do a year in industry as this would give me that extra advantage over my competitors when applying for graduate roles.
My role at Johnson & Johnson varied from day to day. Without listing everything, here are some examples of the type of tasks I carried out; I organised our presence at medical conferences which involved stand build creations, logistical organisation of food, attendees and materials. I controlled the brand budget and organised numerous charity events both internally and externally, such as Movember.
I managed the approval process system to ensure company materials were compliant including projects such as Prescribing Information changes on all materials. I loved every minute of my placement! So much so, that I actually wasn't looking forward to coming back to university due to enjoying working with the people at Johnson & Johnson. The working lifestyle has defiantly suited me better, and 'working for the weekend' has made me make the most out of every week.
Although I liked all aspects of my placement, I would have to say that the people I worked with were the best part. They have been so much fun and such a friendly bunch. The work we do impacts a huge amount of peoples' lives every day and you do feel proud of the work you do everyday.
From my placement year, I have learnt to be flexible and to manage workloads more efficiently to ensure all projects are executed on time. Balancing numerous projects at the same time is a challenge, but an incredibly useful skill once you get the hang of it. I am hoping to apply these new skills to my study in fourth year to help better my results in my degree. I am now aware that I do not want to do marketing, but a more financially based role. I want to try consulting in the future and am aware this will be a completely different challenge, of which I relish.
One of the ways in which LUMS Careers service helped me with my placement preparation was through their LUMS CV structure. I thought it was brilliant. It was clear and concise and made my key buzz words much easier to remember.