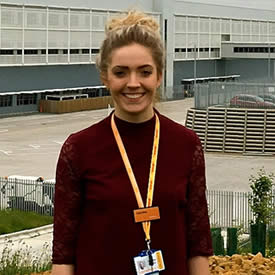 Caroline Phillips
Country Of Origin: United Kingdom
Degree: BSc Business Studies (Industry), 2017
Caroline worked as Warehouse Team Leader & Logistics Strategy Project Support Manager during her placement year at Sainsburys.
I chose to do a placement year because I felt that it would help to build my confidence in preparation for my final year of study, and give me evidence of hard-work, dedication, and relevant experience for my CV. I felt that some time in industry would give me the opportunity to start my search, and begin to explore my strengths and interests. It would also give me direction, ambition, and help to focus me in readiness for moving into secure and mentally challenging work post graduation.
My placement was Logistics based and was split into two completely different roles over the year. I spent the first half of my placement in a Distribution Centre managing a large team of people to get goods in and out of our depot so that they could then be transported to other Depots and Stores all across the network. My role was to coordinate a team of people to ensure all of the trailers coming into the Depot with transhipment loads on were turned around effectively and efficiently, to get them over to the other side of the depot and ready for loading. As well as my Team Manager role, I was responsible for transhipment efficiencies in the Depot. I did a lot of analysis into the existing processes, and then owned the implementation of several improvements that were rolled out across the warehouse. The second half of my placement was a central Logistics role, and I was lucky enough to join the Logistics Strategy team. The team as a whole is responsible for supporting the long-term growth and strategic development of the business. My role was to work alongside the rest of the team as a Project Manager, and I was given projects that I had full responsibility and ownership over. I had to plan my projects and liaise with suppliers and stakeholders along the way to build all of the necessary relationships and foundations. I organised all of the relevant meetings and presented my work to ask for investment in order to take my ideas to trial.
I definitely made the right decision taking a placement year. My experience was fulfilling – I was given the equivalent of a graduate position but with the support network to ease me into my role. I most enjoyed being given responsibility and full ownership of projects. It was so rewarding to plan all of the stages, put all the work in, and be able to see the end results of what I'd managed to achieve. I really liked feeling like I was being invested in, and the self-development opportunities as part of this placement were endless. My placement year has left a lot of doors open internally if I wanted to return to Sainsbury's. Alternatively, it has given me transferable skills that will stand out on my CV if I were to seek employment elsewhere. The entire year was amazing fun, and I have come out the other side with a lot of experience and confidence ready for my final year of study.
The support from the LUMS team was very thorough, especially during the application process. There was a lot of support in structuring cover letters and CVs, which I found especially useful as I had little experience in writing them