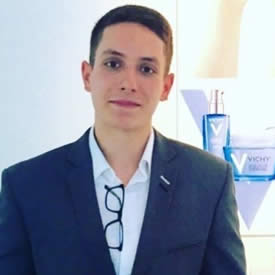 Tudor Tocai
Country Of Origin: Romania
Degree: BSc Marketing Management, 2017
Tudor worked with L'Oreal as a Marketing intern for his placement year.
There were two main reasons for taking a placement year: building up work experience that is becoming increasingly more important for getting on graduate schemes and to determine if marketing/management is the right field for me.
I worked within the Brand Management team of a premium skincare brand owned by L'Oréal. I was responsible for managing 5 product franchises within the brand, including Men care, Haircare, Sun care. These accounted for a portfolio of 35+ high-end products. I managed the overall marketing strategy that had to have a real commercial/sales impact while continuously adapting to the market trends. Some of the highlights were proposing and leading the end-to-end launch of a new Men care product for the UK market and managing a complete redesign for the Haircare range. This included everything from delivering the pricing strategy, RRP recommendation, forecasting sales and supply levels, building the marketing activation strategy and selecting the optimal distribution channels. Other highlights included leading a digital marketing campaign with a budget that had more zeroes than I ever expected.
Working at L'Oréal was one of the best real-life marketing experience a student could ever wish for. It was an incredibly fast paced but ultimately enjoyable experience. At L'Oréal you are thrown in at the deep end from the very beginning and you're expected to learn to swim very fast, and most do. The amount of direct management and marketing responsibilities was beyond what anyone would think an intern role would entail.
The part I liked most about my placement was the transformation from a student to a professional that you go through even from the very first few weeks. You start to think strategically, plan for months ahead, learn how to manage and interact with stakeholders to fulfil your projects, on time and as always to a high standard. All of these came with the very high amount of responsibility (and very intense pressure!) All of this responsibility had a strong impact on my development, but also on the way people treated placement students. You were seen as an equal member of the team and especially in your 'field of expertise' people would seek your opinion and strongly take into account your recommendations. I was encouraged by managers to apply for the graduate scheme at the company but I would like to experience a different environment – either at another FMCG company or going into the technology/consulting field but still in a position deeply concentrated on marketing and brand management.
The LUMS Careers team were invaluable from the start of my application process. From advice on the companies that might be a good fit to looking over my CV. During the placement they have always been of great support and Rory was of great help for me in crystallising my thoughts about my placement experience so far. It was nice to know that the Careers team was one email away if I had anything to discuss or if I needed some advice.