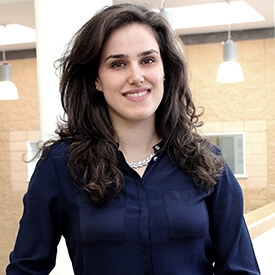 Roxana Ghiassi
Country Of Origin: United Kingdom
Degree: MSc Project Management, 2016
---
Postgraduate Recruitment and Conversion and Student Mobility Coordinator, Lancaster University Management School
---
After I graduated from my Bachelor's degree I was involved in a number of different projects which opened my eyes to project management and fuelled my growing interest in the subject. I then decided I wanted to build my knowledge by way of a Master's degree and started my search. I finally chose this particular programme at LUMS, because it provided a great balance between theory and practice as well as LUMS also being an exceptionally ranked management school.

During my time on the MSc Project Management programme, I really enjoyed how practical postgraduate studies were compared to undergraduate studies. We had the chance to apply what we learnt almost straight away and this was a great way of getting to know ourselves as project managers and perfect our practice as we went along. I really enjoyed getting feedback and being able to improve on things from project to project.

I really enjoyed the chance we had to apply the project management tools and models in our projects almost immediately after learning about them. The practical nature of the programme allows you to learn whilst doing and the real company projects are invaluable in terms of work-based learning.

The teaching staff were all incredibly experienced and had a plethora of project experience to draw upon, which really brought the academic theories and models to life. Hearing the real life experiences and situations related to the core principles of the programme made it even clearer to me how incredibly useful and effective project management really is.

Lancaster is a fantastic city to live in. With it being a student town there is always something to do, but there is also a strong cultural element to the city which makes it such a charming place to live. The live music in the various Lancaster city pubs were a perfect way to wind down after a busy day. I was a member of the belly dancing and karate societies, where I was taught by experienced instructors on a weekly basis. Membership to these societies was a lot cheaper than it would have been if we were to be in a similar club outside the university.

In the second term, we did a project with a social enterprise based in Lancaster which was a great real life experience. I really enjoyed this consulting project because it was the first time I was able to work in a team to solve a real problem for a real organisation. During this experience we all learnt how to professionally present ourselves to the client and also how to work with the client to not only identify their needs but to also negotiate what we could realistically deliver to the client. We got great feedback from the client too which was useful in understanding out strengths and what to improve on for next time.

My time at Lancaster did not disappoint. I really enjoyed the great work/life balance you can achieve. I knew I didn't want to study my masters in a big city simply because of how difficult it can be to travel to and from the university and how distracting this can be. I knew I wanted a campus university where everything I needed was in one place but also close enough to cities for me to visit in the evenings or weekends if I wanted. With Lancaster so close to the Lake District, and the coast, I loved being around beautiful nature. I find it really beneficial to be close to nature where I could go and enjoy a hike to get away from work.

I received a scholarship of £3,000 which in addition to the £1,000 alumni fee discount did make a significant difference to my experience at Lancaster as it softened the financial implications of studying a postgraduate programme. After I was awarded my scholarship unexpectedly, I did feel even more motivated to coming to Lancaster for my postgraduate studies.

The LUMS careers service was second to none. The staff are all really knowledgeable and supportive. They really guide you through the various steps you need to take in order to not only get your dream job but also show you opportunities you hadn't previously considered.

I currently work in Lancaster University Management School as a Postgraduate Recruitment and Conversion and Student Mobility Coordinator. This was an amazing opportunity for me as I knew I wanted to stay in the area and getting a job in the Management School was an exciting next step for me. In my current role, I was also given the opportunity to travel internationally to recruit for LUMS postgraduate study, which really was a dream come true. I have always wanted to travel for business and I probably wouldn't have had the chance to do so in any other company so quickly. I also enjoy the fact that my role is so varied and I have the chance to get involved in many different projects. I have found that I was able to apply my project management skills to my current role and my team are very open to hearing my suggestions on how we could make our project planning and review practices even more efficient.