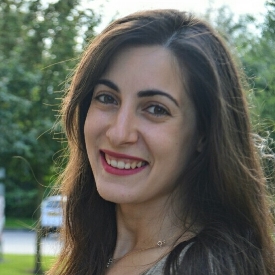 Avgi Chatzimpalioti
Country Of Origin: Greece
Degree: MA Human Resources and Consulting, 2017
---
Global Experiences Coordinator, Lancaster University
---
Why did you choose to study at LUMS?
First and foremost, I chose LUMS because it's a top ranked Management School in the UK. Secondly, because I received a generous scholarship from the department of Leadership and Management, and thirdly, because I found the specific programme more applied than in other universities. My background is in Psychology and Economics, and I found the programme particularly interesting as it involved specific modules on talent, learning and development, and consulting.
What did you like most about your degree programme and the learning experience at Lancaster?
I enjoyed the diversity it offered and the flexibility in terms of studying. What you gain out of the programme depends a lot on the individual and the amount of extra work and reading they are doing outside class hours. The professors were really engaged and interested in the students, and the fact that the programme is CIPD qualified is a big extra bonus.
The modules I enjoyed the most were on learning and development, and consulting. The most challenging work project I took on was the Consulting project. This was like a roller coaster experience for most of the team members, but, the most rewarding one in terms of learning, collaboration, and actual professional experience. The project allowed us to get a first-hand experience of consulting with a local UK company which was a very fruitful learning experience that enhanced our communication, confidence, and consulting skills.
What were the most fun aspects of university life at Lancaster?
For me the most fun experiences were gathering with my best friends from the university in central spots around campus and grabbing lunch and dinner together, hanging out in each other's rooms until late at night, and going out around the city. I particularly enjoyed joining the Latin American, Greek, and Salsa society as we held a lot of socials, dinners, and karaoke events every other week. Lancaster gives you the opportunity to meet and interact with a lot of amazing people who get to teach you so much more than you'd expect before coming here.
If you did a company-based consulting project or international exchange as part of your degree, please describe what it involved and what you gained from it:
I worked with a UK non-profit organisation as part of my degree, and specifically my Consulting module. I collaborated with five other classmates of mine and worked on an HR related issue that the company faced. We visited the company, we interviewed a lot of its staff members to understand the nature and the roots of the challenge the company faced. At the end of the project we presented our suggestions and solutions that we believed would benefit both staff and the management, and produced a report for the CHRO and the CFO of the company.
Through this experience we all built up on our team working and project management skills, as we had to meet a significant number of deadlines. We learned to handle differences, conflicts, and challenges along our way, and we managed to maintain a strong team spirit, with a clear focus that met all our objectives. It gave us a real-life work experience and boosted our confidence when it comes to working with other company staff and managers.
How would you summarise your experience at Lancaster?
My experience in Lancaster was a big learning curve both academically and personally. I explored new areas, ideas, and projects, and I discovered which topics interest me the most. It was a rewarding experience, and a place where I felt productive and creative.
Please give details of any scholarships/funding you received and what impact this has had on your degree experience.
I received a half-tuition merit scholarship from the Department which was a crucial factor for me in deciding to come here. I am grateful for the opportunity and investment in me.
I attended a variety of workshops held by LUMS Careers, particularly the ones in acing interviews, and learning how to succeed in psychometrics tests. I found the advice I got out of these workshops particularly helpful and I would recommend them to any graduate students, as they give you the opportunity to practice and get answers to any questions you might have regarding the application process.
What you are going on to do next and how the skills you gained during your time at Lancaster are helping/will help you in this?
Upon finishing my Master's, I started working for the International Office of Lancaster University, as a Global Experiences co-ordinator, being responsible for the management of a variety of intercultural programmes and events running on-campus. In the future I aspire to move into recruitment and learning and development for an international company. After gaining enough experience in developing human capital, I aspire to start my own talent development consultancy company, either in the UK or Greece.