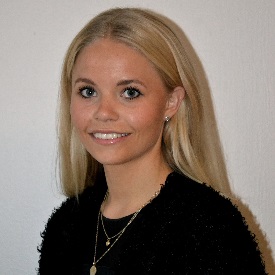 Camilla Tangedal Norbye
Country Of Origin: Norway
Degree: MSc Advanced Marketing Management, 2017
---
Senior Brand Manager, KaroPharma
---
What are your best memories of LUMS?
My best memories of LUMS are the excursions we had to the Lake District and on the canals in Lancaster with the whole class, which are still fresh in my mind, great fun! Moreover, it was the long evenings with good friends and food that I appreciated the most. Without those evenings and the great people I was fortunate to meet along the way that inspired me and pushed me through, I would not be where I am today! Sounds like a cliché, but is indeed true.
What is the best thing about your course?
The best thing about this course can also be one of the biggest challenges you will face throughout the year; the diversity amongst the AMM´s. I had been living abroad for years before coming to Lancaster but nothing was like this experience. Eye-opening and challenging alongside being very educational. Great learning curves both academically and personally that has been highly valuable in my continuation of working in an international and dynamic environment.
Please, fill us in on your career story.
From working as a project manager for Copenhagen Fashion week for a year and being a marketing trainee for CHANEL in Norway, I decided to widen my experience and went from the fashion and cosmetic industry to the FMCG sector. After handing in my dissertation at Lancaster in September, I joined Unilever´s Foods team in Rotterdam with their international internship programme where I am currently working with brand development for Knorr across Europe.
Which part of your course was the best preparation for your job?
I really enjoyed the practical approach of Marketing Strategy course and, in retrospect, I also have to mention our Mindful Manager course, which I think is absolutely unique to the course in the way of thinking and reflecting about the impact of the choices you make and the increasing responsibility of those you will make in the future as a Manager.
Can you give advice for those who want to follow your career path?
Hard work pays off, so keep going but remember to have fun along the way! Do proper research beforehand about the companies you have in scope and their working environment to ensure that you find a place where you fit in and can enjoy your work. Remember how many hours you will spend in the office with your colleagues. My last piece of advice would be to be very clear in the direction you want to go and which company you would like to work for and then put all your efforts and energy to that! Dedication is seen and appreciated by your future employer.