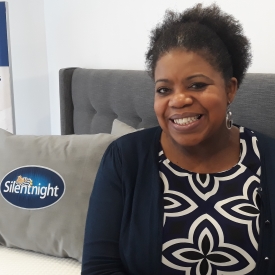 Jasmin Lindo-Clarke
Country Of Origin: United Kingdom
Degree: Executive MBA, 2017
---
Business Process and Applications Director , Silent Night Group
---
What did you do prior to joining the MBA?
Prior to joining the MBA program, I was responsible for Business Applications for a prominent UK bed manufacturer and retailer. My role centred within the IT department, developing and supporting our Enterprise Resource Planning systems. Seen more as service providers we were often reactive rather than proactive when implementing automated solutions for our supply chain. I wanted to change that dynamic and I felt the change had to start with me.
Why did you decide to do a MBA?
I had actually been thinking about a MBA for a couple of years. I felt that in order to lead a business department, to be more involved in the setting of our organisation's strategy, proactive in the delivery of business objectives and integral in shaping internal and external relationships, I had to plug my knowledge gaps. I needed to understand all components and interrelationships within our value chain. On a personal note, a significant birthday was fast approaching which I must admit also gave me the final push to apply.

Why did you choose Lancaster University?
I did not consider Lancaster as I initially concentrated on how I could juggle work and home life so I looked at universities in commuting distance. However, as I furthered my research, Lancaster University started to tick more boxes. I was impressed with their status in the MBA rankings, the course content and timetable.
What did you enjoy most about the Lancaster MBA?
The cohort contained a wonderful mix of personalities, business backgrounds, age groups and nationalities, all of which contribute to varied views and constructive healthy classroom debates. Lecturers were organised and created open and engaging learning environments. The facilities on site are great, everything is contained and you have sufficient quiet areas to catch up on work after lectures. There is a good choice of accommodation on and off campus. Prices are reasonable and the area has great places to walk, cycle, and socialise to clear your mind after an intense day of macroeconomics!
What do you need to consider before applying?
The time and support you will really need to get the most out of your commitment – year one starts quite sedately and then the second year hits you with a punch. My organisation, family and friends were aware of what I was doing and were supportive because you cannot commit to all the things you used to do. I am a member of two orchestras and craft groups. I really thought I could fit it all in but you just can't. However, trust me it has been worth it and its only temporary. I am now back at my orchestras and craft groups, they are still there and I have an excellent and practical Masters degree I am very proud of.
How do you think the Lancaster MBA benefitted you?
The MBA broadened my knowledge base tremendously and gave me the confidence to converse in and constructively contribute in all aspects of my organisation's value chain. From Marketing to Logistics, you are provided with a well-stocked business toolkit together with a new network of friends I met on my journey. The MBA program took me out of my comfort zone. It was a challenging and rewarding journey, which I thoroughly enjoyed.
What is your next step now that you have completed your Lancaster MBA?
On graduating, I have been promoted to Business Process and Applications Director. My remit covers the full value chain not just IT. I am actively involved in setting and implementing both long and short-term change for our organisation. My team are more involved in business wide activities and a few enrolled in leadership programs. I am one of the mentors in my organisation's targeted leadership program, which is a fantastic scheme for lower, and middle managers looking to progress to be our next business leaders. I am now looking into the DBA at Lancaster, as this is a work-based doctorate. Hopefully, it won't take me another significant birthday