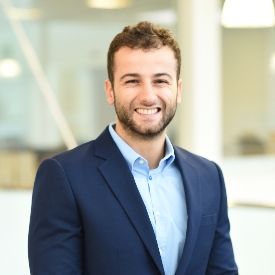 Giuseppe Patanè
Country Of Origin: Italy
Degree: MSc Management, 2017
---
Data and Analytics Associate, PwC
---
Why did you choose to study at LUMS?
I wanted to study in an international environment with a very high academic quality. I realised that the wide variety of extracurricular activities and student-led societies on campus offered me the possibility of having a very unique experience. With hindsight I can now tell that all my expectations were not only met, but by far surpassed.
What was the best thing about your course?
While studying at the MSc Management, I deeply appreciated the wide variety of modules and the possibility of studying abroad in other leading universities around Europe. But what I valued most was the international diversity of the cohort and the numerous pieces of teamwork we had to accomplish during the MSc. This consequently allowed me to dramatically increase my emotional intelligence, and certainly it was also a lot of fun!
Did you do a project, placement, study abroad? What did this involve and what did you gain?
Thanks to LUMS, I had the unique opportunity of undertaking two different study abroad experiences in leading European universities. In the summer of my MSc I studied at the Vienna University of Economics and Business in Austria, as a participant to the "ISU WU" summer school. Then in the autumn semester, thanks to academic merits, I was awarded a place in the Post-master at "Kozminski University" in Warsaw. During these two international experiences I studied with many different postgraduate students from around the world. It was very challenging, yet deeply rewarding in terms of personal growth. They allowed me to magnify my cultural awareness and ability to adapt to changing working circumstances.
Describe your time at LUMS in three words:
Multicultural, challenging, intense.
What impact did scholarships/funding have on your degree experience?
Upon starting the MSc at Lancaster, I received a generous academic scholarship for having demonstrated academic excellence and evidence of existing skills in leadership during my undergraduate years. In addition, when I then applied for the summer school at the University of Vienna, I was awarded a second scholarship by the LUMS, which covered all my travel and living expenses while studying in Vienna. Winning these two scholarships helped me greatly to finance my studies.
What impact has your Lancaster experience had on your career?
Before coming to LUMS I did not have a clear idea of where to set the direction of my career. At Lancaster I attended many career fairs, which were a great help in clarifying my career objectives. When I finally applied for my dream job at PwC, the LUMS Careers Team helped me to polish my CV and provided me with some advices on how to succeed in the rigorous PwC's selection process. All the hard work was rewarded when I finally got the offer to join PwC as an Associate in the South East. At PwC I am part of a team of Data and Analytics experts. We are at the forefront of Big Data, Advanced Analytics, Data Visualisation and Data Coding in many leading languages. We provide insight and advice as well as objective assurance for national and international clients, both in the private and public sector.