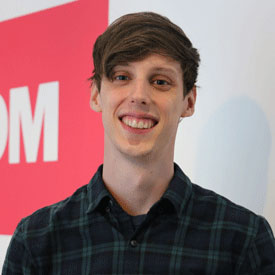 Stephen Hymers
Country Of Origin: United Kingdom
Degree: MSc Marketing, 2016
---
Media Executive, Mediacom UK
---
What are your best memories of LUMS?
The community we had within the LUMS, and on the course specifically, was unlike that I had at other universities in the best way. I met so many people I never thought I could be friends with.
What is the best thing about your course?
The range of modules gives a great scope to enter many different fields of marketing, and It has a big range of challenging, but interesting, projects.
Please, fill us in on your career story.
After graduating from LUMS I was accepted onto the MediaCom Executive Scheme, which lasts 18 months. I got to experience work in social media, digital, press and brand TV media planning across multiple client industries, before deciding which department suited me most. This was an important period as I was surprised at what I discovered I enjoyed and did not enjoy, as on paper I would not have chosen some of those departments to work in.
I am now based at MediaCom Manchester, working as a Social Media Executive, planning and executing social advertising for clients ranging from the automotive to the charity industry.
Which part of your course was the best preparation for your job?
The Marketing Communications module is the most applicable for my job now, but you will use little bits of every module somewhere. The lessons you learn in dealing with stress and teamwork are highly applicable in the working world, too.
Can you give advice for those who want to follow your career path?
Think carefully about the clients, industries, and size of company you could work for that would suit your personality and interests. It's very tempting to go straight for the largest companies because they're big names and their grad schemes get a lot of attention, but, although roles in smaller companies may not be as available, make sure you apply for somewhere you will actually enjoy the job.