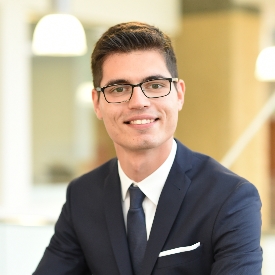 Fabio Telesca
Country Of Origin: France, Italy
Degree: MSc Management, 2017
---
Junior Consultant in Strategy and Transformation, Cognizant
---
Why did you choose to study at LUMS?
LUMS is one of the best Business Schools in the UK. The MSc in Management provided me with great expertise concerning our business environment whilst letting me earn a qualification that would boost the credibility of my profile when applying for my dream job. Among all the other business schools, Lancaster offered a great mix of courses, which was ideal for someone like me with a non-business background.
What was the best thing about your course?
I really enjoyed working together with students from all over the world, but the thing which surprised me most was the dedication and preparation of our lecturers. All were experts in their respective fields and were committed to make us understand and appreciate the topic being taught.
Did you do a project, placement, study abroad? What did this involve and what did you gain?
I did both a company-based project and a study abroad term after completing my dissertation. The project was a great opportunity to apply the knowledge gained during the course. It gave me insights into the shoes of a real consultant and convinced me about my future career choice. The project was indeed demanding, yet extremely rewarding. In October I then went to Vienna, which is not only a fantastic place to live, but was also an excellent opportunity for enhancing my knowledge in my areas of interest.
What impact did scholarships/funding have on your degree experience?
I was lucky enough to be awarded both a departmental and a high-talent scholarship from LUMS. Thanks to the funding received, I was able to focus on my studies and get the best out of the Lancaster experience. I am very thankful to LUMS for giving me this opportunity.
Which parts of your Lancaster experience were the best preparation for your job?
As a business consultant, it is essential to understand how to work together with people and deal with issues that can surface within a group. During my Masters we had plenty of groupwork and group projects, which, in terms of group dynamic, are comparable to the kind of tasks that consultants do daily. The international mix of the cohort increased my cultural awareness and my ability to work effectively in diverse groups.