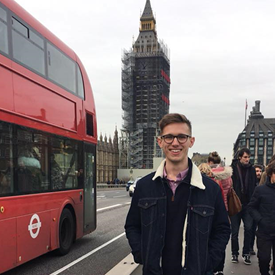 Ben Calvert
Country Of Origin: United Kingdom
Degree: BA Management & Entrepreneurship (Industry), 2018
Why did you choose to study at LUMS?
My decision to study at Lancaster was made at clearing, based purely on pictures, university rankings and what I'd read online.
When I first stepped through the double automatic doors into LUMS, I knew I had made the right decision. I found myself in a stunning building with a blend of the modern and traditional, there were open spacious lecture theatres and a general buzz of professionalism in the air! Instantly, I knew that my decision to study at LUMS was the right one, I had a feeling of home and knew that LUMS would be somewhere I would be proud to spend the next few years of my life working and developing.
What was the best thing about your course?
One of the best things about being a Management and Entrepreneurship major is the flexibility it offers. As part of my degree I've found myself in a ten-week simulation as the CEO of an airline company, working as a management consultant for a local financial company, applying strategic models to innovate the business models of global companies and even planning/starting my own business! A degree as a Management and Entrepreneurship major isn't just a piece of paper its real-life experience!
As well, you're part of a department that really cares and will most likely know you by name! The department has a great open-door policy and are always happy to arrange a meeting and offer academic support.
Did you do a project/placement/study abroad? What did this involve and what did you gain?
I secured myself a paid placement working as a FMCG Integrated Retail Intern for the Walt Disney Company in my third year. My placement year was probably one of the biggest turning points not just in my academic career but my life in general. I really found that during this time I developed both as a person and a professional. I gained great exposure to the industry, visiting the head offices of ASDA and Morrisons to attend meetings with their trading teams. I also got to work with big players in the retail industry such as Kellogg, Hasbro and even managed to help land new Disney Soreen bars in store!
I would 100% do my placement year again and would seriously recommend it to anyone attending university. I found myself returning to Lancaster more focused, ambitious and driven in what I wanted to achieve academically. I came back with a fresh attitude which saw me push my lower 2:1 second year grade to graduate with a BA First Class Honours in my final year.
What are your best memories of your time at Lancaster?
One of my best more recent memories was coaching and captaining my own college football team to a 6-1 victory at Founders, an annual inter-college sports series at the end of the year. Coaching a 16-man-squad for three months was great fun and we made it even better with our Twitter, rebranding to the Galac-D-Cos and inter-D tournament.
First year was class too, for anyone joining university I would honestly say to enjoy first year as much as possible! Take the academic side of your course seriously but also don't be afraid of the spontaneous three-night-out week, trying weird societies for a laugh and make sure you get involved in college sport as soon as possible!
My best memories have come in my final year, I was lucky enough to live in Bowland South with ten great flatmates, six of who were freshers! Over the year we had one guy run for Bowland President on a dare, had over half the flat play for Bowland FC and made some great memories at extravs, the Bowland Christmas Ball and trying to drink our way through every college bar on campus in one night!
What are the best things about living in the Lancaster area?
Having lived both on and off campus I can say that some of the best things about Lancaster are the hidden gems. Whether it's the woodland trail, Lancaster museum or music festivals at Williamson Park – there is a lot of hidden character to life at Lancaster. What it lacks for in the hustle and buzz of a big city campus it makes up for with beautiful woodland, rolling hills and northern charm.
Location wise, Lancaster is never too far away, whether its three hours down to London or an hour to either Leeds, Manchester, Pleasure Beach or the Lakes – the city is well positioned, and days out are easy to achieve!