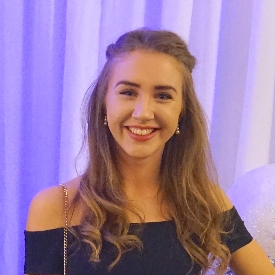 Alice Hackett
Country Of Origin: United Kingdom
Degree: BA Management & Entrepreneurship (Industry), 2018
---
E-commerce Executive, The Hut Group
---
Why did you choose to study at LUMS?
It might sound cliché but after my first visit to Lancaster University I knew it was the right place for me. I think it's something about the friendly atmosphere there. But it was also the degree subject (entrepreneurship) that spoke to me. It turned out that I was right to trust my gut!
What was the best thing about your course?
The best thing about my course was its practical nature. Whilst we still wrote essays and sat exams, there was a lot of group work which was very practical. It meant I was able to develop myself as a person and improve a whole host of skills as opposed to just reading and writing.
Did you do a project, placement, study abroad? What did this involve and what did you gain?
I did a placement at Sony Europe Ltd in my third year. My role was a product marketing assistant in the camera and camcorder department. From this, I came away with a really good idea of what working for a multinational corporation is like… including the day-to-day data analysis to some really exciting traveling and corporate events. I found it not only very helpful to secure myself a graduate job, but also for my studies and confidence.
What are your best memories of your time at Lancaster?
My best memories are probably from my final year as I really enjoyed working and socialising with my course friends and learning from the experiences and skills they'd gained on placement. Surrounding myself with such interesting and intelligent people made this year one of the best!
What are the best things about living in the Lancaster area?
I think one of the best things about the Lancaster area is the fact that it is heavily dominated by students. I also really loved the countryside surrounding Lancaster which was great for casual walks with friends and made for a scenic ride into university.
Which parts of your Lancaster experience were the best preparation for your job?
Probably the best preparation for my job was my marketing placement at Sony Europe, as it set me up for office life, learning everything from office etiquette to excel skills. However, I also found the group work and practical projects in my course extremely useful for developing my skills and making great interview examples.
What impact has your Lancaster experience had on your career?
I have got more out of my Lancaster experience than I could've hoped for. Aside from having fun and making friends, looking back I can see how far I have come. I have massively developed my skills, broadened my perspective and interests and grown my confidence. Having done a placement, I found it much easier applying for and securing a graduate job. However, I also think that the practical nature of the course is a real attraction for employers.