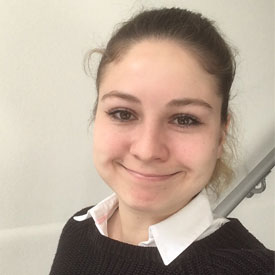 Lisa Baumgartel
Country Of Origin: Germany
Degree: MSc Marketing, 2018
---
Marketing Executive, Betbull
---
Why did you choose to study at LUMS?
I chose to study at LUMS for multiple reasons. Although rankings have influenced my decision in a way, the main reasons why I came here were the community spirit, internationality of LUMS members and opportunities during as well as after my studies. LUMS is opening doors of many kinds during the course, for example through projects connected to the real market, and afterwards, such as through career support and the department's reputation as well as the hard and soft skills learnt.
What was the best thing about your course?
The best thing about my course was the huge amount of what I have learnt. I have not only gotten to know subject-related things, but also many soft skills for example how to work with different people from various nationalities, cultures and mentalities. Furthermore, lecturers were all very engaging and inspiring making me want to know more! All these skills, I am able to use in my career.
What/who inspired you most at LUMS and why?
There have been so many influences and inspirations throughout the year, I am not entirely sure that I can name the biggest inspiration of them all. A huge inspiration were my flatmates, friends, the rugby team, LUMS staff as well as my modules-related people including course mates and lecturers. I think it has been the combination of all of these that inspired me most.
LUMS inspired me to put myself forward as student representative and PG student ambassador – two roles I don't think I would have ever taken into consideration before starting to study in Lancaster.
Did you do a project, placement, study abroad? What did this involve and what did you gain?
I wrote a group dissertation for a client (Lancashire County Council in my group's case). It was a lot of fun to engage with a theme of public interest and being able to add to a real-life scenario. Working on a real project showed how difficult it can be along the way to still receive the results you want. Flexibility and resilience were big components throughout the whole process.
Describe your time at LUMS in three words:
Best decision ever!
What are the best things about living in the Lancaster area?
The best thing about the Lancaster area is probably the fact that Lancaster is a student town and everything is very easy to get to. There are a lot of things to do or visit, like the Dukes theatre, the Vue cinema or the Ashton memorial with the butterfly garden next to it, or pubs, clubs and bars. Other than that, there's always clubs and societies as well as friends to hang out with as you will live not very far apart from one another. Seriously, there's pretty much everything given in Lancaster!
What impact did scholarships/funding have on your degree experience?
The scholarship I received made it possible for me to study here. It was one of the factors I considered when deciding where to go next. This financial support enabled me to live the best year I have had so far and to make so many new amazing experiences!
What impact has your Lancaster experience had on your career?
I learnt to be more open-minded, more self-confident and outgoing. I don't think I could list only one thing as I did learn a lot throughout this year and all these experiences may unveil themselves as impacts in one way or the other eventually.