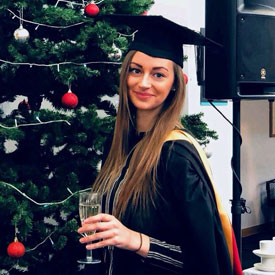 Yulia Dureva
Country Of Origin: Bulgaria
Degree: MSc ITMOC, 2018
---
Information Systems Management Trainee, Debenhams Retail
---
Why did you choose to study at LUMS?
I chose LUMS without hesitation because of its outstanding reputation for high quality education and close links with the industry. Studying in such a global institution allowed me to experience different working styles and to explore many rewarding travel opportunities. LUMS has a very vibrant student community and I really enjoyed being part of it. Thanks to the support from the academic staff and the careers centre, I was able to achieve my academic and professional goals.
What was the best thing about your course?
The workshops with company representatives were a great opportunity to network with business and technology professionals. This helped me to gain advice and expertise that I wouldn't otherwise be able to get hold of.
Describe your time at LUMS in three words?
Challenging, inspiring, rewarding
What are your best memories of your time at Lancaster (course,social, work experience..)?
Lancaster University has a very beautiful and green campus with amazing countryside views. The nice weather makes it even better. I really enjoyed relaxing and unwinding with friends outside in nature in the middle of a busy term.
What are the best things about living in the Lancaster area?
Very easy transport links to some of the biggest cities in the UK. Also, the Morecambe Bay and the Lake District are ideal spots for people who are keen on outdoor sports and activities like me.
What impact did scholarships or funding have on your degree experience?
Pursuing a postgraduate degree can be a costly investment. Lancaster University has a number of scholarship options that also influenced my decision to choose LUMS. The postgraduate scholarship that I was awarded definitely made my degree experience less stressful as it reduced the financial burden.
Which parts of your Lancaster experience were the best preperation for your job?
Throughout the masters programme, we were constantly challenged to assess concepts and contemporary business phenomena in a critical way. This helped me to develop different perspectives of the business world which I am now able to apply and further develop through my job. Given that we live in a time of constant change and rapid technological innovation, having the ability to see the big picture and evaluate the wider impact of a certain business decision or innovation is definitely a skill that can benefit any forward-looking organisation.
What impact has your Lancaster experience had on your career?
The opportunity to complete a company project as part of my dissertation was the highlight of my Lancaster experience. I gained an insight into the business implications of the emerging technologies, which greatly enhanced my skills-base. Working to tight deadlines and communicating with people from different levels helped me to learn how to manage the relationships with stakeholders effectively. This also allowed me to develop key project management skills, which I'm using day-to-day in my job.
Is there anything else about your LUMS experience that you'd like to share with us?
LUMS is a great place to study and there are so many opportunities to get involved and make an impact while at university. Also, student input is greatly valued in all aspects of the university life. My advice to all prospective LUMS students is to be curious and to constantly challenge themselves!