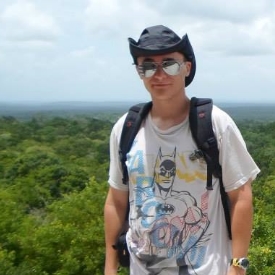 Aaron Bowen-Ziecheck
Country Of Origin: United States
Degree: MSc ITMOC, 2016
PhD Student and Research Assistant, McGill University School of Information Studies
After completing my undergraduate degree in Business Administration and Information Systems, I wanted to continue my studies at a top university overseas. I honed in on the UK university system as comparable to the US. After applying to a half-dozen top universities in the UK, I eventually chose LUMS because of a mixture of the high rankings, top-notch faculty, and the fact that the MSc Information Technology, Management and Organisational Change degree curriculum was so unique. Additionally, my course director, Martin Brigham, was extremely personable and I knew from my interactions with him that I would receive a personalised education rather than being just a part of the crowd.
I enjoyed the interaction I had with the faculty and staff. Everyone was eager to help, answer questions, and provide time for the students. These worldly scholars were not offended by alternative thinking. In fact, I was encouraged by many of the faculty to continue asking questions that challenged the established academic thought. This is the epitome of what good teaching is all about.
I found a great deal of friendship and community by being treasurer of the Jewish Society. The sense of belonging that comes from being part of a tightly knit group is invaluable. Also, the events that the society held were a great distraction from my studies. Lancaster also has a wide array of great pubs that I enjoyed.
My dissertation was a collaborative research effort between two of my classmates and I, and IBM. IBM tasked us with researching the best-practices for companies adopting cloud computing technology; focusing on the social, political, and organisational aspects rather than technical ones. My team and I interviewed industry experts and cloud customers to understand what worked and didn't work for them during their cloud adoption projects. We used the data not only to inform our dissertations but also to produce a professional white paper for IBM. I gained insight into corporate culture and project management, how to write professional white papers, and a network within the IT industry.
My time at Lancaster, in one word, was fantastic. The academics were world-class, there were opportunities abound, and I enjoyed my time studying.
I received a departmental scholarship. This helped me pay for my tuition, although I do not think it impacted my degree experience as such.
My time at LUMS prepared me for my next step, applying to PhD programmes in Canada, in a number of ways. Firstly, I learned how to live in a foreign country for an extended period of time. Secondly, I feel very academically prepared by my courses. Finally, my research dissertation helped me to produce a viable PhD research proposal.