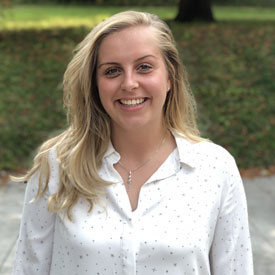 Eloise Attfield
Country Of Origin: United Kingdom
Degree: MSc ITMOC, 2018
---
Associate Sales Executive , Pitney Bowes Software and Data
---
Why did you choose to study at LUMS?
I had completed my undergraduate degree at Lancaster (BSc Natural Sciences with Study Abroad) and had thoroughly enjoyed my experience. I wanted to specialise in a more technical subject but also get some management experience, so ITMOC was the perfect course for me. The scholarship awarded to me by LUMS also influenced my decision.
What was the best thing about your course?
The variety, content and relevance of the course, followed very closely by my coursemates.
What/who inspired you the most at LUMS and why?
Martin Brigham. He was the one I spoke to on the Open Day in February, who convinced me to do the course. Throughout my Masters year, he was very supportive and was keen for the students on the course to get the most out of it and strive to do the best. Different alumni came back throughout the year and it was great to see that he still kept in touch and had a good relationship with them.
Did you do a project, placement or study abroad? What did this involve and what did you gain?
My Masters dissertation was titled: A Game-based Green IS approach to Influence Environmentally Sustainable Behaviour. This involved working alongside Juliana Sutanto to design a study to test the influence of different psychological theories on persuading people against the use of plastic consumption. I designed a game using two psychological theories and tested my hypotheses. I gained an understanding of the complex nature of carrying out my own research project and the time it takes. I got a great level of personal satisfaction out of the project and the belief that no project I do will ever be quite so tough.
Describe your time at LUMS in three words
Challenging, Busy, Worthwhile
What are your best memories of your time at Lancaster?
Playing netball for LUNC and winning our Roses game 75-25! The many times I went to sugar dressed in dressing up outfits. The girls on my course each taking turns to cook dishes from their home countries sharing them with each other. The times spent in Fylde bar watching sport. So many more...
What are the best things about living in the Lancaster area?
The endless greenery. Having grown up in a busy city, this was one of the reasons I chose Lancaster. The locals were also very friendly! With the train connections, it is also very easy to get to Manchester/Liverpool/Edinburgh/London.
What impact did scholarships or finding have on your degree experience?
The scholarships I obtained for my Masters degree (one from LUMS and an Alumni scholarship) consolidated my reasoning for doing my postgraduate degree. This was also aided by getting an Assistant Dean position at Grizedale College.
Which parts of your Lancaster experience were the best preparation for your job?
Working with different people from all over the world, many of whom were older than me, and understanding their individual expectations regarding communication. Very useful when starting work in an international organisation. Secondly, the course taught me how to think differently about technology and the way it can aid organisations in transforming. This is basically my role in sales; offering a new perspective to an organisation.
What impact has your Lancaster experience had on your career?
I believe my Masters degree and the experiences I had in my final year of university were key to me getting the job I have now. The confidence I gained, as well as the knowledge, have enabled me to succeed and develop in my current role.
Is there anything else about your LUMS experience that you'd like to share with us?
Just like to say that my time at Lancaster, whilst challenging, was beyond rewarding. I enjoyed the course, social life and took advantage of as much as I could. I hope to stay in touch with my course mates and tutors and if there's anything I can do as part of the Alumni network, please do let me know.