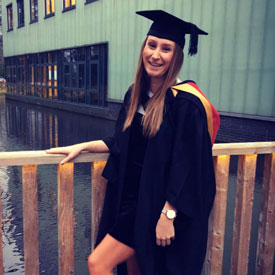 Niamh McNamara
Country Of Origin: United Kingdom
Degree: MSc International Business & Strategy, 2018
---
Business Operations Management Graduate, Babcock
---
Why did you choose to study at LUMS?
I studied for my BSC Hons Economics degree at LUMS so I was already aware of the high-quality teaching available to students and the level of support you receive throughout.
What was the best thing about your course?
The relevance of course content to the real world - being able to easily apply what I learned to my current job. Further, the frequency of teamwork that you have to undertake which equips you with a valuable skill set most employers look for.
What/who inspired you most at LUMS and why?
The lecturers themselves and the highly influential studies they've carried out all over the world.
Describe your time at LUMS in three words.
Valuable, challenging, unforgettable.
What are your best memories of your time at Lancaster?
Being Bowland Female Sports Rep and organising founders. Making friendships which are second to none and gaining 2 degrees which are widely recognised worldwide.
What are the best things about living in the Lancaster area?
The surrounding areas including the lake district when you want some peace and quiet and to get away from student life. On the other hand, you have Manchester close by if you want to go on nights out and shopping sprees.
What impact did scholarships or funding have on your degree experience?
I receive a £1000 per annum from the university tax free which really contributed to relieving any financial worries I had.
Which parts of your Lancaster experience were the best preparation for your job?
The activities I became involved with outside of studies which equip you with skills that employers look for.
What impact has your Lancaster experience had on your career?
It has allowed me to challenge myself in the workplace but also to know that if I require guidance, I should look to those around me. My time at Lancaster has also given me the confidence to spark up friendships easily and to find common grounds with those I work alongside.