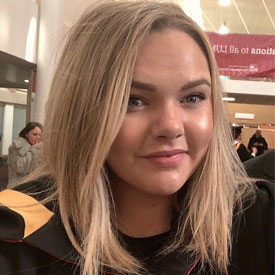 Katie Ellis
Country Of Origin: United Kingdom
Degree: MSc Human Resource Management, 2018
---
Recruitment Coordinator , Amazon
---
Why did you choose to study at LUMS?
I chose to study at LUMS because they offered the best course material and I could complete level 7 CIPD alongside.
What was the best thing about your course?
The diversity of my peers enabled for a wide range of differing opinions.
What/Who inspired you the most at LUMS and why?
All the lecturers provided a high quality of teaching which motivated and enabled me to achieve the best grade possible.
Describe your time at LUMS in three words.
Challenging, enjoyable, engaging
What are your best memories of your time at Lancaster?
My best memory of my time at Lancaster is meeting so many interesting people and some who I can say are friends for life.
What impact did scholarships or funding have on your degree experience?
I didn't study my undergraduate degree at Lancaster so being awarded a scholarship really helped as a lot of people got an alumni discount.
Which parts of your Lancaster experience were the best preparation for your job?
My course really helped me prepare for my time at Amazon, alongside working with people from all over the world.
What impact has your Lancaster experience had on your career?
I believe my masters really helped me get the job at Amazon. Before working at Amazon and straight after finishing my masters, I worked for the Carbon Trust as an HR intern. I wouldn't have got either role without my masters or my experience.
Is there anything else about your LUMS experience that you'd like to share with us?
I would say that Lancaster is a great place to study. The campus is small and everyone is really friendly. I thoroughly enjoyed my time at Lancaster and being a part of LUMS. There were various challenges throughout my time studying, but it was definitely worthwhile.