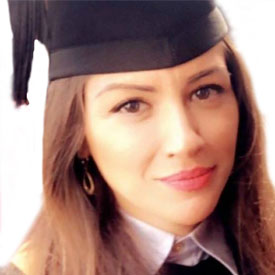 Anna Abzianidze
Country Of Origin: Georgia
Degree: MSc Entrepreneurship, Innovation and Practice, 2018
Why did you choose to study at LUMS?
I chose to study at Lancaster for a number of reasons. Testimony to University's great expertise in the field is a carefully designed programme content and different, practice-based learning approaches along with excellent academic faculty, powerful networking opportunities, and incredible campus experience.
What was the best thing about your course?
The programme is truly transformational. It equipped me with the best of theoretical knowledge, critical and creative thinking skills that I was able to apply with Practice Modules: Innovation in Practice and Entrepreneurship in Practice by working on real-time, company live projects.
What/who inspired you most at LUMS and why?
All the lecturers provided a high quality of academic and practical experience, which motivated and enabled me to achieve the best grade possible along with a balanced social life. The vibrant campus life, opportunity to meet diverse people from different degrees and exceptional support from department made me feel at the University like at home.
Did you do a project, placement or study abroad? What did this involve and what did you gain?
As part of the Study Abroad Program, I had the opportunity to do one semester of MBA course at WHU - Otto Beisheim School of Management, which is one of the best such institutions in Germany with its excellence in management education and embedded entrepreneurial spirit. The programme emphasizes theoretical rigor and practical learning aiming at qualifying participants to strategically lead and manage organisations. The experience received was truly exceptional, as I had the chance to grasp the business word not only from the entrepreneur's perspective but from business leaders' perspectives trying to tackle the complex management issues. I had the chance to attend strategy and operations management courses delivered by such companies as Amazon, Porsche Consulting etc
Describe your time at LUMS in three words.
Experience, Create, Enjoy
What are your best memories of your time at Lancaster?
There are far too many. I learned from amazing Professors who created a challenging and incredibly friendly study environment. I met friends for a lifetime. I had a fantastic and vibrant time.
What are the best things about living in the Lancaster area?
Simply Lancaster is an area where I felt at home. I will never forget it and will probably miss forever. I would describe Lancaster as green, vibrant with plenty of pubs/clubs to choose from.
Campus life is incredible with lots of pubs, social hubs, gyms, study rooms, libraries, and computer labs. I often marveled at its natural parks and ducks playing in the small lakes.
What impact did scholarships or funding have on your degree experience?
After receiving a scholarship, I looked no further than Lancaster University. The postgraduate scholarship for Academic Excellence I was awarded, eased my financial burden. The fun fact is that I have also graduated with Best Academic Performance Award, that once again confirmed the importance of such scholarships, helping to boost motivation and increasing performance in students work.
Which parts of your Lancaster experience were the best preparation for your job?
Live projects, team working and group assignments.
Is there anything else about your LUMS experience that you'd like to share with us?
Dear prospective students: Studying at Lancaster is about getting a holistic experience, engaging in social activities, join diverse societies and attend networking events. Enjoy the vibrant Lancaster life.