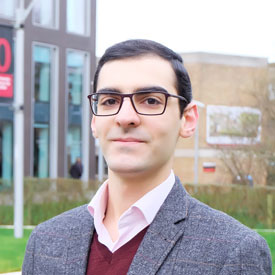 Khalil Lazraq
Country Of Origin: Morocco
Degree: MSc Business Analytics, 2018
---
Data Scientist, Bentley Motors Ltd
---
Why did you choose to study at LUMS?
After graduating with a Bachelor's degree in Industrial Engineering, I was willing to advance my career in Business Analytics and Data Science by applying for a Master's degree. When selecting my course, I based my decision on a multi-criteria analysis, consisting of course content and its practicality, cultural diversity and international exposure alongside the rankings, the cost of living and fees. I also contacted previous alumni in order to get feedback on the course they studied. As a result, LUMS topped a list that was composed of seven other universities. Later on during the year, I knew I made the right decision after Lancaster University was awarded The Sunday Times 'University of the year 2018'.
What was the best thing about your course?
The part I enjoyed the most about my course was the 4-month client project with a Manchester-based Artificial Intelligence firm called Peak. Under the valuable supervision of Dr. Trivikram Dokka, I had the opportunity to work on an optimisation problem for one of Peak's clients, an equipment and tool hire company. The project was divided into two interchangeable parts: forecast optimisation and inventory repositioning, which meant there was plenty of room to apply theoretical know-how in a real-world project. Not only that, but I also learned a lot about best practices in data science from everyone in the team and got to know their project challenges, and the methods they used. I was also involved with expanding the project's scope and formulating a scalable model that could incorporate lots of flexibilities and constraints using robust optimisation. This part of the project was the basis for my dissertation, which not only improved my research skills significantly but also taught me how to explore unknown research paths efficiently and effectively.
Describe your time at LUMS in three words.
Fun-tastic, eye-opening, unique
What are your best memories of your time at Lancaster?
Apart from studying, the best thing Lancaster offers to its students is the international exposure they get while meeting other people from all parts of the world. Learning about others' cultures is great, especially when the University encourages everyone to do so by organising various activities around campus. The fact that I was the only postgraduate in LUMS from Morocco made it even easier for me to plan activities with people from everywhere, such as India, China, UK, Thailand, Greece, Russia, USA, Egypt to name a few. Also, Lancaster is the place where I learned how to cook like a boss!
What impact has your Lancaster experience had on your career?
As an international student, it was difficult for me to work in the UK with a Bachelor's degree from a foreign country. My Master's degree at Lancaster offered me the opportunity to apply to jobs all around the world and has been a turning point in my career as a data scientist.