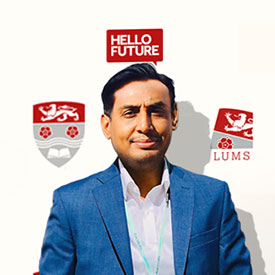 Anser Hussain Siddiqui
Country Of Origin: Pakistan
Degree: Full-time MBA, 2018
---
Founder & CEO, Alefsys Limited/Obi
---
What did you do prior to joining the MBA?
Prior to joining the MBA at Lancaster, I was a serial entrepreneur and running my own technology startup.
After beginning my career as a technologist, working for local tech unicorn Rozee.pk (Pakistan's #1 jobsite) in a senior managerial position, and having equipped myself with years of extensive experience in the technology sector, also startup execution and online consumer product management, I decided to embark on a series of entrepreneurial ventures. I have never looked back.
Why did you decide to do an MBA?
I always believed in working on weaknesses by upgrading skills. This inclination and my future plans made me believe that an MBA degree could help me in three aspects. First, my next venture, aimed at the UK & EU outdoor adventure tourism market required me to upgrade and shift my business acumen from local to international. Secondly, being a technologist with limited business and management education, and skills acquired simply through trial and error, I felt an MBA could mitigate the potential risk of an unstructured approach to business practices. A third very important aspect was gaining the edge of a strong and international business network, to increase the success odds of my next venture.
Why did you choose Lancaster University?
My choice of Lancaster's MBA was based on its reputation and ranking, in general, and for the entrepreneurship and strategy modules in particular. Also the course duration, diverse ethnic formation and small size of the cohort. The generous Exceptional Talent Scholarship I received backed my selection.
Lancaster's location also played a major role. It was the most suitable place to start my next venture, being very near to the Lake District - a hub for outdoor adventure activities. Moreover, my intention for a fully focused time invested in the MBA could be supported by Lancaster's location, which is very conducive to learning. My time and experience at the campus validated my expectations.
The Lancaster MBA's Mindful Manager module, with its focus on self-awareness, introspection and mindfulness - most important tools for any entrepreneur - was another major source of attraction to me.
How do you think the Lancaster MBA benefitted you?
The Lancaster MBA has given me a platform, network and logistical support to start my next venture. Lancaster connected me to the university accelerator program, which provides a platform for entrepreneurship. It gave me the opportunity to further polish my entrepreneurial and business skills by attending an exchange program in one of the top and dedicated-to-entrepreneurship institutions, EMLyon Business School, in France; also an executive business course "European Business Studies" at St. Gallen University in Switzerland. For mentoring, LUMS connected me with seasoned business celebrities such as Kevin Roberts - former Saatchi & Saatchi CEO & Chairman – who is now my mentor.
Before the MBA, in strategy, operations, marketing and branding I was doing everything ad hoc; I didn't know there were frameworks I could use. I've now been trained to use those frameworks, on the hard and soft skills side.
It was during my time at Lancaster that I learned British society is struggling with loneliness. Learning about this issue has pivoted my idea - from a simple adventure tourism online marketplace to a social enterprise. This insight has given my startup a resolve to help, not only society, but the environment and human beings as well.
What is your next step now you have completed your Lancaster MBA?
As planned, I have started activities to launch my new venture, with support from the Lancaster Enterprise Centre, which provides acceleration for entrepreneurship. My idea has been selected to receive sponsorship for a Graduate Entrepreneurship visa to facilitate my business activities in the UK, using Lancaster as the launch pad. Recently I secured angel funding and have started working on proof of concept for my product, to launch it on a limited scale from the Lancaster University campus.
My venture has received attention in the media and was covered recently in the business magazine, BusinessBecause.