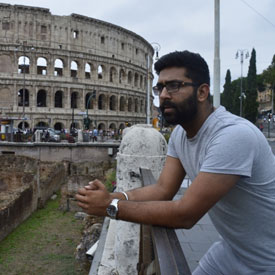 Sagar Seth
Country Of Origin: United Kingdom
Degree: MSc Finance, 2018
---
Exports Manager, Al Maya International UK
---
Why did you choose to study at LUMS?
The culture of the university is excellent. I felt I could always strike a perfect balance between my studies, my extracurricular activities and my social life. Finally, the LUMS reputation to prepare students for life after university is one of the best in the country.
What was the best thing about your course?
The best part was the university's efforts to help prepare students for CFA exams with Fitch Learning. The extra support and sponsorships give an excellent boost to anyone who wishes to take their academic qualifications to the next level.
What/Who inspired you most at LUMS and why?
I came across some of the best lecturers, who were able to teach theory as well as its practical applications in business.
Describe your time at LUMS in three words.
Fun, inspiring and creative.
What are your best memories of your time at Lancaster?
Playing a whole season with the Lancaster University Cricket Club. Working day and night in the Bloomberg lab for my dissertation. Partying with friends in the Herdwick Bar. My time at Lancaster was an excellent experience, which I will never forget.
What are the best things about living in the Lancaster area?
Friendly people, a safe town with good places to eat.
Which parts of your Lancaster experience were the best preparation for your job?
Team coursework - helps relationship building.
What impact has your Lancaster experience had on your career?
It made me confident in my current job.
Is there anything else about your LUMS experience that you'd like to share with us?
I enjoyed the induction week. It feels like you get to socialise with the whole university. Also, I loved the rivalry between Lancaster and York. I played a cricket game against York and won the man of the match.