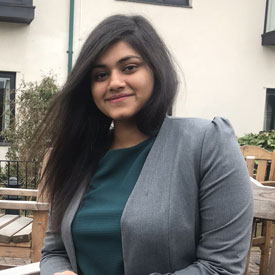 Aishwarya Bysani
Country Of Origin: India
Degree: MSc Marketing, 2018
---
Marketing & Business Development Manager, ShreeGluco Biotech Pvt Ltd
---
Why did you choose to study at LUMS?
LUMS has excellent rankings, and it is well known for its marketing program as well. Apart from this, the university is known for welcoming different cultures and maintaining diversity at its best.
What was the best thing about your course?
The best thing about my course is practicality. They gave us a chance to work with companies throughout the course.
What/who inspired you most at LUMS and why?
The person who inspired me the most is Dr. Teea Palo. She is a vibrant woman, with many stories to tell. She was my mentor and taught me B2B marketing which is also the field I work in right now. She was a constant source of strength during my dissertation period.
Describe your time at LUMS in three words.
Unforgettable, challenging, experience
What are your best memories of your time at Lancaster?
I have created memories that will last a lifetime. Strolling around the beautiful green campus, impromptu nights out and dinner nights with friends.
What are the best things about living in the Lancaster area?
The best part about living in Lancaster is everything is accessible. It is closer to a lot of beautiful places for short vacations.
What impact has your Lancaster experience had on your career?
The opportunity to work with a well-known company for my dissertation has given me immense insight into business technicalities, which helped me to sharpen my skills. Working with people from different backgrounds, managing deadlines, and other activities have helped me to become efficient.