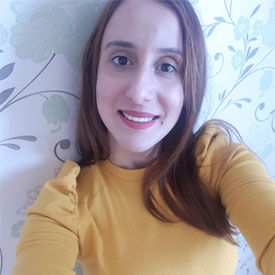 Vera Ungureanu
Country Of Origin: Romania
Degree: MSc E-Business and Innovation, 2018
---
Project Manager, Santander UK
---
Why did you choose to study at LUMS?
I feel really proud that I was selected to study at LUMS with a scholarship. The reputation of the Management School, along with the career advice and support from the tutors were the main reasons I chose LUMS.
What was the best thing about your course?
The fact that I had the opportunity to study real case studies and collaborate with third parties for my dissertation. Also, the workshops with IBM and other companies gave me a different view of the tech market.
What/who inspired you most at LUMS and why?
My Strategic Management Professor - David Brown. At the end of the course, I developed a different perspective on how to solve complex problems due to the nature of the course. It certainly increased my critical thinking and reflective practice.
Describe your time at LUMS in three words.
Opportunities, Diversity, Friends
What are your best memories of your time at Lancaster?
Working on projects until 6am with my team in the library, parties and dinners with my friends, and working as a Student Ambassador for the Students Union.
What are the best things about living in the Lancaster area?
You are surrounded by nature and feel like you're part of a community on campus. The town centre is very close to all the shops and bars. Also, the campus provides a range of facilities such as shops, bars etc.
What impact did scholarships or funding have on your degree experience?
My scholarship had a great impact on my degree. I am thankful to the University for providing me with this opportunity. Without the scholarship, it would have been impossible for me to come and study in the UK.
Which parts of your Lancaster experience were the best preparation for your job?
Practical workshops with professionals from multinational businesses.
What impact has your Lancaster experience had on your career?
The greatest impact. Now I am working in Financial Crime Transformation for Santander Technology. Everything I studied as part of my Masters helped me obtain this job. Especially studying emerging technologies and information systems management.