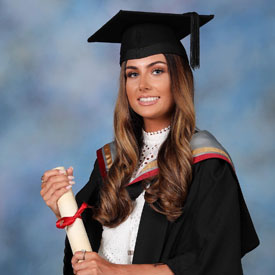 Lauren Bentley
Country Of Origin: United Kingdom
Degree: BSc Management and Human Resources, 2019
---
HR Administrator, Daisy Group
---
Why did you choose to study at LUMS?
I chose to study at LUMS because I believed lecturers and departments would be dedicated to my education and career, whilst being completely supportive. I found that support regarding careers, exams and assignments was fantastic and LUMS feels like a family, so you feel comfortable approaching people for extra support when needed.
What was the best thing about your course?
I enjoyed learning various aspects of management and HR and how it has changed over time. This allowed me to see the transition and gain a thorough understanding. The group activities such as presentations and group reports allowed us to socialise, gain confidence and experience what it may be like to work on projects when we enter employment. The content was varied and we learned a wide range of topics, which allowed us to make links throughout our exam answers/ assignments which again showed understanding and analysis.
Describe your time at LUMS in three words.
Valuable, fulfilling and positive
What are your best memories of your time at Lancaster?
Being part of the JCR (Women's Welfare and Education officer for Lonsdale College), being a Freshers Representative; meeting a wide range of people from various backgrounds and meeting new friends.
What are the best things about living in the Lancaster area?
Everything is local and you feel safe. It's a close-knit community and you know where everything is, plus you're never too far from friends.
What impact did scholarships or funding have on your degree experience?
I had a scholarship for 3 years which helped out massively with paying towards my living costs/ books/ stationery etc. It also had an impact on my experience as it allowed me to rely less on my parents and fund myself.
Which parts of your Lancaster experience were the best preparation for your job?
The content of modules themselves has helped me as I have background knowledge of my chosen career which will hopefully help me in the long run.