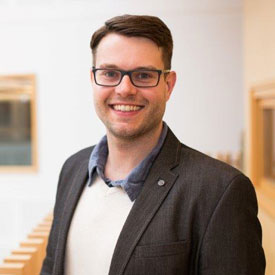 Erik Jacobi
Country Of Origin: Germany
Degree: PhD Marketing, 2016
---
Lecturer in Management and Marketing, University of Essex
---
Why did you choose to undertake your PhD at LUMS?
I had already done my MSc in Management and Marketing at LUMS and so I knew how great a management school LUMS is, especially when it comes to marketing education.
What was the focus of your doctoral research?
For my PhD I conducted an ethnography, working as an account planner in a London advertising agency, to research the marketing strategy development process.
Describe your time at LUMS in three words.
Challenging, Rewarding, Meaningful
What are your best memories of your time at Lancaster?
I am really grateful that I had the opportunity to work in a London advertising agency as part of my PhD, which really added a lot to both my academic as well as my professional experience.
What are the best things about living in the Lancaster area?
In my opinion the best thing about living in Lancaster is definitely the proximity to the Lake District.