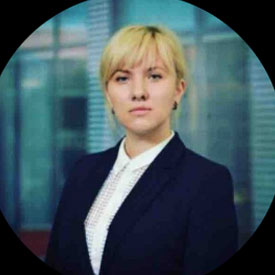 Eleonora Salzmann
Country Of Origin: Russia
Degree: MSc Money, Banking and Finance, 2015
---
Assistant Manager, Trading and Treasury, KPMG
---
Why did you choose to study at Lancaster?
First of all, I choose LUMS because of its well known academical reputation. Moreover, there were a couple of older friends who did their master studies and highly recommended the university. Additionally, I liked the selection of courses and the diversity of programs.
What was the best thing about your course?
I liked especially the flexibility and variety of the program courses, that allowed me to focus on a specific field of interest. I was more interested in quantitative topics and econometrics, as well as its real application to financial data.
What/who inspired you most at LUMS and why?
Professor Grzegorz Pawlina. I was fascinated with his attitude to students and his way of teaching. Also the course materials of Professor Pawlina.
Describe your time at LUMS in three words.
Challenging, interesting, demanding
What are your best memories of your time at Lancaster?
I have met a lot of interesting people that have had a considerable impact on my life, personal growth, and development.
What are the best things about living in the Lancaster area?
It is a quiet area with a rich historical background that allows you to dedicate yourself to studies.
What impact did scholarships or funding have on your degree experience?
I was honored to be awarded Lancaster University Management School scholarship, that covered a fair amount of my tuition fee. It was crucial, as for non-European students, the tuition fees are considerably higher.
Which parts of your Lancaster experience were the best preparation for your job?
I would say that all courses were valuable. For my career goals, the following courses were the most relevant: Foundations of Financial Markets, Topics in Banking Regulations, Risk Management in Commercial Banking and Advanced Investment Management.
What impact has your Lancaster experience had on your career?
It helped me successfully get invitations for interviews and land my first job in finance.