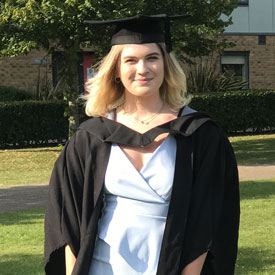 Charlotte Burt
Country Of Origin: United Kingdom
Degree: BA Economics and Politics, 2019
---
Business Technology Graduate , DHL
---
Why did you choose to study at LUMS?
I chose to study at LUMS due to the wide variety and opportunity Lancaster offered. I knew I was interested in Economics but wanted to be able to tailor my degree to the aspects I was interested in, which Lancaster provided. The management school's amazing reputation also drew me to Lancaster.
What was the best thing about your course?
The best thing about my course was the ability to chose modules that really interested you. There was such a variety of choice from statistic based modules to theory. This choice meant you could cater your degree to either your interests or what could potentially benefit your career in the future. This level and style of teaching within the modules was also a major bonus, as it made learning much easier.
Describe your time at LUMS in three words.
Diverse, interesting and exciting.
What are your best memories of your time at Lancaster?
My best memories at Lancaster are not only course-related but also within the social aspects. Being a member of the economics society gave me an opportunity to meet other students and attend some interesting and thoughtful talks in up and coming aspects of economics. Socially, Lancaster provided many opportunities. I was part of the athletics club for two years and then a member of the girls' pool team in my final year. Both clubs gave me the opportunity to make amazing friends and to spend time outside of the degree, socialising and making the most of my time.
Which parts of your Lancaster experience were the best preparation for your job?
Many aspects of the Lancaster experience prepared me for my job. In terms of the degree itself, some of the modules I completed such as macro and microeconomics gave me a great understanding of business. The LUMS careers services helped me greatly in not only finding graduate jobs to apply for but also helped me develop my CV and interview techniques. Finally, the whole process of moving away from home and living independently, provided me with the knowledge and courage to move to the opposite end of the country to pursue a job.
What impact has your Lancaster experience had on your career?
The best impact Lancaster has had on my career is the confidence it gave me via presentations, societies and moving away from home. The diverse nature of Lancaster and the many things I was involved in gave me a lot of experience in communication and its importance.