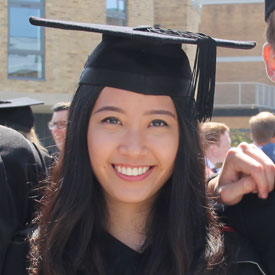 Evelyn Ong
Country Of Origin: Malaysia
Degree: BA Management and Entrepreneurship, 2019
---
Business and Marketing Strategy, Jacaranda Records Ltd
---
Why did you choose to study at LUMS?
My sister spoke highly about her experience at Lancaster University, and in the Management School. I was always interested in what the management curriculums had to offer, as they seemed very practical-based with the hands-on approach from its faculty. I personally enjoy learning by doing, so automatically thought LUMS would be a perfect fit for the type for higher education I was looking for. I wasn't just looking for the types of modules available, but also the opportunities they would give me - to be able to meet multi-cultural, like-minded people who were interested in doing things beyond the handbooks we were going to be given.
What was the best thing about your course?
The people I have met and worked with, the work I was (not just handed, but) thrown into by tutors and staff, and also the resources that were available - from the lecturers to the books, and the facilities to the entrepreneurs in residence. There was an abundance of conversation starters and tools there to help me get the most out of my degree. My course was full of opportunities to go and use the learning spaces, read interesting books, and meet the friendliest and most open-minded people. It helped me develop my knowledge about business etiquette for sure, but equally consider the vast majority of possible hobbies, aspirations, and skills. I could develop everything from design skills to pitching skills and I feel immensely equipped to explore even more things - my course made me curious about my own capabilities.
What/who inspired you the most at LUMS and why?
The people. The friends I have made along the way, the tutors that took the time to speak to me, and the friendliness of those around me. It's difficult to pin-point where those inspirations came from, but some significant conversations I could recall were with my tutors like Sophie Alkhaled. She is one of the most level-headed and inspirational people I have ever met - her words are very encouraging and welcoming, and her kindness always extended beyond the classroom. She taught me for two modules during my four years at University and I always remember my thoughts being fuelled and encouraged after tutorials. When I took up Gender and Entrepreneurship in a Global Context, I was bracing myself for controversial remarks and ignorant arguments...instead, Sophie had curated this open-minded forum and curriculum that welcomed the exchanges and taught me that these conversations are exactly what is needed in this day and age, and one shouldn't be afraid to learn more about themselves and others. I fully believe her module was one of the best modules I ever had during University, and I have no doubt it has prepared me for life beyond higher education. She inspired me to be more conscientious, open-minded, patient yet assertive.
Did you do a project, placement or study abroad? What did this involve and what did you gain?
I did a placement year at Dolby Laboratories in London. It was an amazing year and one that made me realise my passion for technology in entertainment. I have long been interested in the arts and in media but never knew to what capacity. My placement year allowed me to experiment with my aspirations and meet the best people that I will keep in touch with for a long time. The teams I worked with during my time at Dolby really offered me once-in-a-lifetime opportunities - I know this is what most people will say, but I am truly grateful to the people I have met that year and to the people who taught me as I was trying to figure out the technological jargon, systems and also the business aspects to their services and licensing arms. I was able to get involved with client/partner facing demonstrations, go abroad, pitch my ideas to the Directors at Dolby, organise industry-wide board meetings, create some content with my team and had it demonstrated in conferences in America, which led to me finding my amazing job now.
Describe your time at LUMS in three words.
Challenging, rewarding, unbounded
What are your best memories of your time at Lancaster?
In my final year, it was the last time I organised Startup Weekend Lancaster (2018) - I met the coolest people, we managed to put together the best and most hardworking team, and we pulled off an event that brought 100 people together in the management school for a weekend (52-hour) marathon of building life-changing start-ups (some of us with complete strangers!). Meeting all these people and having the chance to meet such dedicated individuals really puts things into perspective and motivated me to continue taking more initiative and being brave about asking for help. It showed me that the management school was there to support its students and help donate its resources to keen students, and it showed me who some of my life-long friends would be.