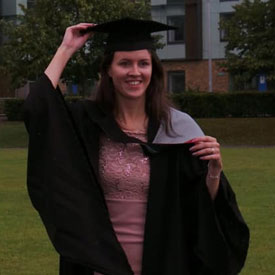 Orla Duffey
Country Of Origin: United Kingdom
Degree: BA Economics and Politics, 2019
---
Masters Degree, Lancaster University
---
Why did you choose to study at LUMS?
The prospect of flexible study - meaning I could change from the degree programme I applied for was a major plus point. I had never studied economics or business studies before, so knowing I could try it out at University, but have the safety net to change it also, was a really strong factor in my choice to study at LUMS. I chose Lancaster as a whole because the atmosphere was so welcoming and supportive.
What was the best thing about your course?
The range of modules on offer. There was so much choice and that was really beneficial, as it allowed me to tailor my degree to aspects of economics that I found interesting or wanted to learn about. I could also tailor my degree towards the areas of economics I had greater strength in.
What/who inspired you at LUMS and why?
The careers team at LUMS are very inspirational. They are so committed to sharing their expertise of the world of work with students at any stage in university life and they are willing to do whatever they can to help students secure their dream job or placement.
Did you do a project, placement or study abroad? What did this involve and what did you gain?
I undertook an internship during my second year with the Richardson Institute. This involved working on a project for an external client - Moonshot CVE. The experience was highly rewarding, as it enabled me to further my teamwork and communication skills, but also apply my research skills to a professional brief and network with non-governmental organisations.
Describe your time at LUMS in three words.
Rewarding, Eye-opening, Memorable
What are your best memories of your time at Lancaster?
One of my best memories from Lancaster will be the varsity competition in 2017. I have competed for the university swimming team throughout my three years at Lancaster, but that first varsity away game at York was the best. The girls' team were not expected to win, but somehow we managed it, by only a few points! Knowing we were the underdogs and to be a part of the winning team at my first varsity competition is just an amazing feeling and one I will treasure.
What are the best things about living in the Lancaster area?
Lancaster is perfectly placed. With the 9 colleges on campus, there is plenty going on, but the centre of town is also a great place with plenty of shops and places to socialise. Lancaster is also super well connected by train and bus, making it easy to go to nearby cities such as Manchester.
What impact did scholarships or funding have on your degree experience?
I did not receive any scholarships or additional funding from the university. However, I think budgeting can ensure that money does not impact on your degree experience.
Which parts of your Lancaster experience were the best preparation for your job?
I think the extra-curricular activities and extra careers support have been great assets for job preparation. Being involved in the swimming team and politics society have enabled me to gain experience in 'soft skills', such as teamwork, communication and time management. But the careers support has also been great, enabling a variety of employers to be brought to the attention of students. In addition, the support regarding CVs and interviews from the careers teams, the employability modules in my course, and the option to undertake the Lancaster Award has been excellent in my job preparation, as it has allowed me to show off everything I have achieved in the past three years in a professional way.
What impact has your Lancaster experience had on your career?
I have gained an array of experiences during my time at Lancaster that I can use to demonstrate the skills that employers are after in the ever-competitive graduate job market. I feel I have gained a significant amount of confidence as I have successfully studied a subject I never knew before to a high level and I have also been able to engage in a variety of public speaking situations, such as applicant days and school visits. Overall, my Lancaster experience has improved my self-confidence and belief and therefore, giving me the confidence to embark on any career I choose.