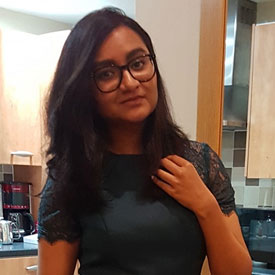 Zareen Khan
Country Of Origin: Bangladesh
Degree: MSc Economics, 2018
---
Assistant Economist , Department of Health and Social Care
---
Why did you choose to study at LUMS?
Lancaster is a really good university for Economics and I received an academic excellence scholarship.
What was the best thing about your course?
The skills that I picked up during my time at LUMS are still relevant to me today.
What/who inspired you the most at LUMS and why?
The campus! I loved getting away from the stress of the Masters for a woodland walk or to the swing set next to George Fox. The campus kept my mental well-being in check and enabled me to cope with the pressure.
Did you do a project, placement or study abroad? What did this involve and what did you gain?
I had to do an MSc dissertation. Mine was on the house price seasonality of Canadian real estate. I definitely learned a lot from the process and at the end got a distinction on it, so it was good.
Describe your time at LUMS in three words.
Memorable, Enlightening, Encompassing
What are your best memories of your time at Lancaster?
The best experience was the social activities going on in colleges. I loved the homely feel of them and enjoyed getting away from the course for a little stress relief.
What are the best things about living in the Lancaster area?
The campus is self-sufficient, so it's like your own little community away from the chaos of a city. I liked having that and liked the feeling of home away from home.
What impact did scholarships or funding have on your degree experience?
As an international student, I definitely could not have afforded my Masters without the academic excellence scholarship I received. It enabled me to pursue my postgraduate.
Which parts of your Lancaster experience were the best preparation for your job?
The modules which had seminars every week, for which you needed to read 4/5 journal articles every week. It was a task back then but now I'm grateful for the training in quick analytical reading.
What impact has your Lancaster experience had on your career?
I don't think I would have had the skills or the confidence to get the job I have today without doing my Masters degree. I didn't have to do it, but it taught me what I needed to have the confidence to go for my dream job.