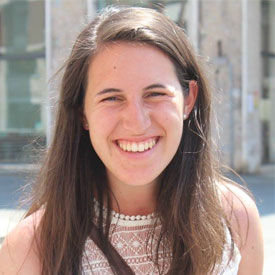 Chiara Costi
Country Of Origin: Italy
Degree: MSc Economics, 2019
---
PhD Student in Economics, Lancaster University
---
Why did you choose to study at LUMS?
I graduated for my undergraduate in International Business Management and I wanted to learn more about Economics so I decided to carry on with my studies in this field.
What was the best thing about your course?
I learned how to apply theories to everyday life, learning how to manage data to investigate economic and social issues.
What/who inspired you most at LUMS and why?
All my professors have been really helpful, with high-quality teaching during lectures and seminars. I think that the whole LUMS environment is really stimulating, especially for organised seminars where students, researchers, and professors can discuss different topics.
Did you do a project, placement or study abroad? What did this involve and what did you gain?
During my MSc the only project I was working on was my master dissertation. It was research within Health Economics in which I tried to investigate the Alzheimer's Disease causes. Specifically, the aim was to look at the role of stress in the development of the disease. I conducted this research on a European dataset and, alongside with the help of my supervisors, I performed logistic regressions to assess the effect that some stressful events have on the probability of having Alzheimer's Disease in later life. The development of neurodegenerative diseases is hard to evaluate since it involves multiple causes. Therefore, one year is not enough to find some definite answers. I learned the basis of analysing real-life data with this project, and I am happy to carry on learning more about it with my PhD position in the next three years.
Describe your time at LUMS in three words.
Challenging, stimulating, collaboration.
What are your best memories of your time at Lancaster?
The best memories are the ones in which both the academic and the social life were mixed together. Learning in class and from books is important, but I think that networking with other people with different backgrounds is fundamental. Personally, I learned a lot from meeting new people and working with them. Having a social life is also important to relax and to not be too focused only on your academic duties. Playing tennis and social events in gradbar are all you need to face difficult days!
What are the best things about living in the Lancaster area?
Lancaster is a small city, so after living here for quite a while you really feel like home. Everything you need is close to you and it's well connected to big cities like Manchester and London.
What impact did scholarship or funding have on your degree experience?
The scholarships I received were fundamental to me. As an Italian, we don't receive governmental funding from our government so all the expenses are covered by our families. Hence, receiving some fundings was really helpful for my family finances and it surely allowed me to spend quality time in Lancaster.