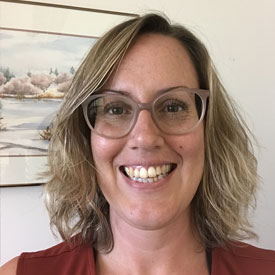 Jacqui Munro
Country Of Origin: Canada
Degree: PhD Accounting and Finance, 2019
---
Assistant Professor, Accounting , University of Regina
---
Why did you choose to undertake your PhD at LUMS?
Accounting and Finance programs at Lancaster are highly rated. I was teaching accounting at a university, and Lancaster was recommended to me by a colleague. The program has an excellent reputation internationaly.
What was the focus of your doctoral research?
The focus of my doctoral research was the linguistic analysis of annual report narratives.
How did you benefit from the research training offered at LUMS?
The research training was intense, but the professors were knowledgeable and fully engaged in the material. There was a good blend of applied research and theory, and the class sizes were relatively small so we had the opportunity to ask questions and engage in discussion. I learned a framework for research that I use in my day-to-day teaching and writing.
What/who inspired you most at LUMS and why?
Carolyn Downs, a senior lecturer in marketing, inspired me to apply myself to my writing and provided tremendous support on my PhD journey.
Describe your time at LUMS in three words.
Impactful, stimulating, challenging
What are the best memories of your time at Lancaster?
My best memories of Lancaster are walking the university grounds with friends. The farmland surrounding the campus is stunning also. I miss the old trees and my son gathering walking sticks on the path from the road to the childcare centre. The campus grounds are truly magical!
What are the best things about living in the Lancaster area?
You can get anywhere by bike - the cycling paths are extensive! Public school education is incredibly high quality. The setting is idyllic - pasture land, quaint city center, and canal paths. I miss it so much!
What impact did scholarships or funding have on your degree experience?
I wouldn't have considered the program without a scholarship. I was an international student with a family. I remain grateful that Lancaster University offered a scholarship.
Which parts of your Lancaster experience were the best preparation for your job?
I have a job in academia, so the research preparation (stats, theory, methods) and teaching were helpful. In particular, I participated in linguistic seminars (which were outside of my department but fundamental to my methods). The teaching seminars for faculty with Dr Pelham Gore and Dr Paul Taylor gave me a new lens to view accounting concepts/processes. I truly value the time Drs Gore and Taylor spent discussing complex accounting with me.
What impact has your Lancaster experience had on your career?
My Lancaster experience has widened my view of accountancy and accounting's role in society. Additionally, I have a solid base in statistics and applied theory from which I can stem into future research projects.