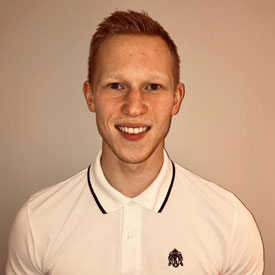 Andris Bogomols
Country Of Origin: Latvia
Degree: BSc Business Analytics and Consultancy, 2019
---
International Masters, EADA Business School in Barcelona
---
Why did you choose to study at LUMS?
Not going to lie, before actually coming to Lancaster, I cared a lot about ranking tables, and how prestige the university is. LUMS was offering, what for me seemed a very interesting and exciting programme whilst being one of the top universities in the country.
What was the best thing about your course?
I believe that this course prepares you and helps you move into the professional world. It had loads of statistics, analytics that are in high demand amongst potential employers, it also allowed me to grow personally by developing my soft skills. Different projects, negotiations, they had been created in order for students to get the best out of it and still enjoy themselves.
What/who inspired you most at LUMS and why?
It is the diversity and people around you. On a daily basis, I saw my fellow students going for job interviews, traveling, gaining experience, and that is what drove me forward too. You see all these opportunities around you, and you do not want to miss out on them. At the end of the day, it is almost a competition as lots of you are going for similar goals in your future careers.
Did you do a project, placement or study abroad? What did this involve and what did you gain?
I missed out on placement opportunities, but the projects that were part of my programme were not less valuable. I want to highlight the negotiation module, which built a real-life situation around us and allowed us to experience how a business meeting can go in different directions at the last minute, and you still need to be able to make a deal.
Describe your time at LUMS in three words.
Diversity, opportunity, growth
What are your best memories of your time at Lancaster?
To anyone coming and joining the amazing Lancaster community I highly recommend to be involved. Whilst still pursuing my degree, I was playing basketball for Lancaster University this whole time. Outside of your academic environment, you get to know people, you make friends for life. I know I have. I was also part of LU Business Consultancy Society, which I see as the best work experience I have got. They offer you real projects with real businesses and you get to enjoy making an actual change.
What are the best things about living in the Lancaster area?
Lancaster is a beautiful place in the middle of nowhere, you will see cows and tractors on your way to uni. The town is small, especially for those coming from big cities, but you feel like you're a part of the community. Almost everything and anything here is made for making student's life easier and better, and most of the people you see are students too.
What impact did scholarships or funding have on your degree experience?
I, just like most of the students, had my student financing helping me. It meant I could focus on my studies rather than worry about my finances.
Which parts of your Lancaster experience were the best preparation for your job?
The business world gets more diverse every day, and having so many nationalities around you helps you be more aware of them in your future career and in life. You learn to communicate with people, work side by side and learn from them.
What impact has your Lancaster experience had on your career?
Coming from a small country in Eastern Europe, I was not aware of all the opportunities there are in this world. Going to Lancaster was one of the toughest things I had done in my life, but I can say for sure that it was the best thing I could have done. Lancaster opens up your eyes and encourages you to take on new challenges, and break barriers both literally and figuratively speaking. Lancaster was that big step I had to take in order to get to where I am at this moment.
Is there anything else about your LUMS experience that you'd like to share with us?
The last thing I want to point out is staff, lecturers, all the people that allow this experience to be as amazing as it is. People will help you, will listen to you and they will encourage you to be the best version of yourself you can be.