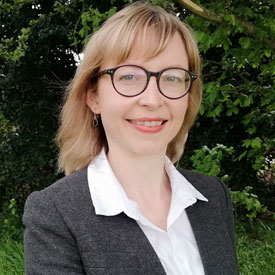 Emma Gorman
Country Of Origin: New Zealand
Degree: PhD Economics, 2019
---
Senior Research Fellow , University of Westminster
---
Why did you choose to undertake your PhD at LUMS?
I chose to undertake my PhD at LUMS because there was a cluster of faculty and PhD students working in education, health and labour economics - my areas of interest. LUMS also offered PhD studentships and opportunities for PhD research training.
What was the focus of your doctoral research?
My research covered topics in the returns to education and school choice in England.
What are the best things about living in the Lancaster area?
Lancaster is in the beautiful north-west of England, and close to the Lake District. I enjoyed being able to easily cycle and walk into the countryside. While Lancaster is a small town, it is a pleasant place to live and study with very good coffee.
What impact did scholarships or funding have on your degree experience?
I received funding from the Department of Economics and the Economic and Social Research Council (ESRC) which was essential to support my PhD studies. I am grateful to the Management School for providing generous funding to attend international events: a highlight of my time at Lancaster was attending international training schools and conferences, where I met other PhD students and learned from world-class academics. I also had the opportunity to undertake internships in various government departments, which was supported by my supervisors and the Department.
What impact has your Lancaster experience had on your career?
The ongoing support and collegiality of my supervisors and the wider Department of Economics were crucial in providing me the opportunities and skills to pursue a career in research. I worked at Lancaster in a research post funded by the ESRC while I prepared my PhD thesis for submission and examination. Subsequently, I took up a position as Senior Research Fellow at the University of Westminster, where my remit includes academic research, policy evaluation and consulting on topics in education and labour economics.