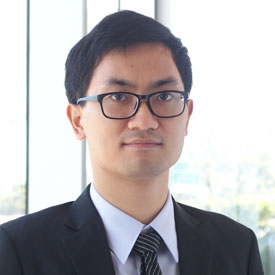 Kwok Yuen Fan
Country Of Origin: Hong Kong
Degree: MSc Advanced Financial Analysis, 2018
---
Audit & Assurance Associate, Deloitte Touche Tohmatsu
---
Why did you choose to study at LUMS?
My teacher had suggested me to study my postgraduate degree at Lancaster University. Then I found that LUMS is remarkable. Its MSc Finance Programme ranks within the top 30 consecutively in three years. It is a quadruple accredited business school. Furthermore, the one-year master's programme would provide support to acquire the CFA level II qualification.
What was the best thing about your course?
The world-leading research resource was the best thing during my study. I can always get help from my teachers. I was exposed to the updated and newest research outputs which are practical to my further research experience.
What/who inspired you most at LUMS and why?
Dr Anastasios Kagkadis gave me lots of advice and assistance to improve my master's thesis. He leads me into academia and let me realise my potential to be a researcher. We are friends and still keep in touch!
Did you do a project, placement or study abroad? What did this involve and what did you gain?
I gained international exposure and friendship during the projects I completed. It is a unique experience. Although we are from different countries, we are connected and striving for the same goal.
Describe your time at LUMS in three words.
Treasurable, Friendship and Achievement
What are your best memories of your time at Lancaster?
Lancaster is beautiful! I always hang out with my girlfriend. We enjoyed the woodland walk on campus and looking around Lancaster itself, especially Williamson Park.
What are the best things about living in the Lancaster area?
I love watching the ducks crossing the roads. They are so cute!
What impact has your Lancaster experience had on your career?
My experience at Lancaster University confirms my will to participate in finance and economic research. It completely changed my life! I have built up my research skills and knowledge of financial studies from scratch.