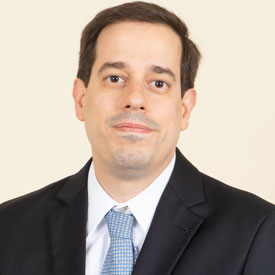 Sergio Andreoli
Country Of Origin: Brazil
Degree: Full-time MBA, 2019
---
Chief Financial Officer, IDid
---
What did you do prior to joining the MBA?
Prior to joining the MBA programme at Lancaster, I worked for over 15 years in finance and strategy. I served as Controller at Ferroport, a joint-venture between Anglo American and Prumo Logistica, for four years. I worked at Prudential International Insurance as strategy and business development manager for Latin America for 2 years, developing a strategy plan and seeking potential opportunities to increase Prudential's footprint in the region. I also served as head of Treasury and Investments at Icatu Seguros, a leading life insurance and pension products provider in Brazil, for six-years.
Why did you decide to do an MBA?
After I had an extensive experience in finance, I realised that I needed to improve my soft skills and capabilities in order to advance as a C-level executive, so pursuing an MBA degree abroad could help me improve those skills. Based on that, I looked for international programmes that covered my gaps and also had a strong faculty in strategy and leadership.
Why did you choose Lancaster University?
I chose the Lancaster MBA because of several aspects. The most relevant was the reputation of the Mindful Manager programme, which was exactly what I was looking for. The programme provided a holistic aspect of leadership, including topics related to ethics, politics and practical leadership skills to operate in a VUCA (Volatile, Uncertain, Complex and Ambiguous) world. Other factors were the worldwide reputation of the strategy modules, the course length of 12 months, located in the UK, scholarships and ROI, strong community, diversity and class size.
What did you enjoy most about the Lancaster MBA?
After going through all this year, I realise how rich all this learning and sharing experiences with my classmates was. Being one of the most experienced of my cohort and with extensive experience in finance and having led teams, I realized that despite having experience I am not experiencing the lessons learned over time. Reflections on my conduct and attitudes during the workgroups and feedback from my classmates helped me understand and improve myself and thus develop my soft skills.
The lecturers and dedicated staff of the MBA programme helped me on this incredible challenge and I had a great time in Lancaster.
Trips to the Lake District, London and Prague collaborate to better integrate my cohort with the alumni network and to understand other business perspectives in the UK and Europe. Another amazing moment was to have been chosen to be one of the eight students who attended the Kevin Roberts Master Class.
Despite being a small town in northwest England, Lancaster is a charming city with an active lifestyle. Other things that I also enjoyed were living on campus, where you have so many options to interact with your colleagues, especially in pubs and restaurants.
What do you need to consider before applying?
Before applying for an MBA programme, you must take into consideration your goals after graduation and thus define the best business school that offers the programme that meets your needs and objectives and not just look at rankings. Rankings are important to attest to the quality of the programme, but always evaluate if the program meets your needs and goals.
How do you think the Lancaster MBA benefitted you?
Professionals need to be equipped with capabilities to navigate in a complex and unstable world. In this way, the Lancaster MBA has broadened my knowledge and helped me understand how to navigate and manage in the VUCA world.
My personal learning experience throughout the MBA programme has been so vast, including the key learnings from the Mindful Manager and Core Capabilities combined with other technical modules, especially related to reflections from group work.
What is your next step now you have completed your Lancaster MBA?
After completing the Lancaster MBA, I accepted an offer to become CFO at Rio Motorsports, a start-up company in Rio de Janeiro that will develop, build and operate a new race track capable of hosting F1, MotoGP and Indycar races. I am also planning on developing and participating in social programmes to improve education and quality of life in poor areas of Rio de Janeiro.
Note: Sergio has since progressed to a new role, as Chief Financial Officer for FinTech company IDid.