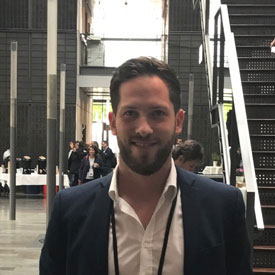 Tobias Finke
Country Of Origin: Germany
Degree: PhD Marketing, 2019
---
Assistant Manager, KPMG Deal Advisory, Strategy
---
Why did you choose to undertake your PhD at LUMS?
LUMS was the clear choice for undertaking my PhD studies because of the amazing staff; not just the renowned scholars but also the admin staff that ensured my application process was going smoothly.
What was the focus of your doctoral research?
My doctoral research examined how companies respond to climate change. I contributed to this timely, increasingly important and acknowledged field of research by specifically focusing on the business interactions. In doing so, I adopted a network approach (Industrial Marketing and Purchasing Group) to analyse empirical insights gained from multiple in-depth case studies in the context of the UK Energy supply sector.
What/Who inspired you most at LUMS and why?
My peers. During my time at LUMS I had the pleasure of meeting many bright and upcoming scholars, who were ready to push the boundaries of their fields of study.
Describe your time at LUMS in three words.
Challenging, Fun and Life-changing.
What impact did scholarships or funding have on your degree experience?
Scholarships and funding had a significant impact on my PhD experience. Firstly, the LUMS PhD scholarship enabled me to cover my living expenses and gave me the opportunity to gain valuable teaching experience. Secondly, LUMS and the Marketing department supported me by covering travel expenses to several conferences around the world. Thirdly, the Newton Fund allowed me to spend three months at Tianjin University in China.
What impact has your Lancaster experience had on your career?
Lancaster has taught me to be structured, persistent and to solve complex problems. Three skills that are invaluable as a strategy consultant and probably in any other career as well.