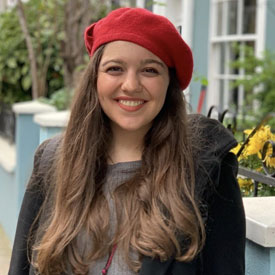 Sara Qaddoura
Country Of Origin: Palestine
Degree: MA Human Resources and Consulting, 2019
Why did you choose to study at LUMS?
I chose LUMS because it was one of the rare schools that offered the course I wanted to do, and also its ranking.
What was the best thing about your course?
Having the chance to exchange knowledge with people from different parts of the world.
Describe your time at LUMS in three words.
Unforgettable, Informative & Developmental
What are your best memories of your time at Lancaster?
The client project and making new friends.
What are the best things about living in the Lancaster area?
Being away from distractions and having lots of facilities on campus such as the social hub, spacious library and learning zone really helped me concentrate. Lancaster is a calm city but it's also well connected which allowed me to travel around a lot and explore the UK. I probably visited 13 cities during my stay.
What impact has your Lancaster experience had on your career?
I already worked for 5 years in the consulting field before joining the course. My Lancaster experience helped me confirm what I know and also enhanced my knowledge about the similarities between client projects in different parts of the world. It helped me have a better outline and exposure to knowledge and allowed me to link between theory and practice.