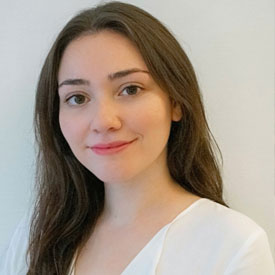 Diana Ribeiro Martins
Country Of Origin: Portugal
Degree: MSc Money, Banking and Finance, 2019
---
Finance Trainee, European Central Bank
---
Why did you choose to study at LUMS?
I chose Lancaster as part of a Double Degree with my home university. The diversity of the subjects, the locations and the fact that LUMS is ranked highly were determining factors that ultimately led me to choose it to pursue my masters.
What was the best thing about your course?
One of the most striking things about my masters was the diversity within the class. It allowed me to learn from people who had extremely different points of view, which made my experience much more enriching.
What/who inspired you most at LUMS and why?
The international community and environment. It truly felt like a place where different backgrounds come together and where diversity is celebrated, as opposed to being seen as an obstacle.
Did you do a project, placement or study abroad? What did this involve and what did you gain?
I studied at LUMS as part of a Double Degree. It allowed me to study different subjects, from Business to Finance and Banking, to get to know different cultures and teaching methods and travel. It was challenging from an academic point of view, but it is definitely something I recommend to those who have the opportunity to do it.
Describe your time at LUMS in three words.
Growth, friendship & fun.
What are your best memories of your time at Lancaster?
Some of my best memories come from the social aspect of the LU community, from flatmates to coursemates and people within Graduate College. I formed very close friendships, for which I'm very thankful for. I also had the opportunity to engage in several extracurriculars, from arts to volunteering, where I grew and found things that I became very passionate about.
What are the best things about living in the Lancaster area?
One of the things I liked the most about Lancaster was the mix between nature and city living. It is also a great place to be when wanting to travel around the UK, either down through England, up to the Scottish Highlands or around the Lake District.
What impact did scholarships or funding have on your degree experience?
I received very generous scholarships from both Lancaster University and the Double Degree programme. This made my degree much more affordable and allowed me to do some traveling.
Which parts of your Lancaster experience were the best preparation for your job?
Lancaster allowed me to learn how to work with virtually anyone, regardless of country, age, culture or beliefs. I believe it has made me a more versatile and flexible worker.
What impact has your Lancaster experience had on your career?
LUMS provides an excellent career advice service which led me to think about my future career from early on in my degree and led me to apply to international organisations around Europe - something that I might not have tried had I not been pushed in that direction. It resulted in getting a job offer before I finished my degree, in an organisation I've always wanted to work for.