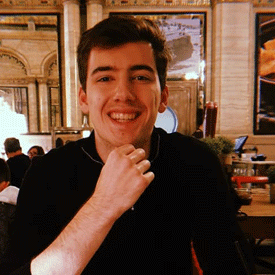 Tommy Etheridge
Country Of Origin: United Kingdom
Degree: BSc Economics, 2019
---
Economist , Jacobs Engineering Group
---
Why did you choose to study at LUMS?
The university is known by employers for academic excellence, which I thought would help with job applications following my graduation. More specifically LUMS is esteemed for both the quality of its teaching and the wide array of modules it offers. It was the appeal of this, coupled with the opportunity to access sport through the collegiate system, which made my decision to apply to LUMS an easy one.
What was the best thing about your course?
The interesting content. Whichever university you choose there are always going to be lecturers you dislike and exams which are challenging, but when the underlying course content is engaging and interesting it is still enjoyable regardless. I found the vast majority of my lectures to be insightful; covering a wide spectrum of topics in a good amount of depth. During my second and third years on the programme, I also had the opportunity to choose the modules that interested me, which allowed me to tailor my experience on the course to my preferences.
Describe your time at LUMS in three words.
Challenging, rewarding, memorable.
What are your best memories of your time at Lancaster?
As cliche as this may be, it's the people you meet who make the experience as enjoyable as it is. From the people you are randomly allocation to live with in first year (who have become lifelong friends now), to those people you meet due to the campus nature of the university, to the friends you make at the multitude of different societies and sports clubs - my best memories come from the people I shared the last three years with.
Which parts of your Lancaster experience were the best preparation for your job?
While the degree itself has given me confidence in my problem-solving abilities and helps me tackle challenging tasks at work, it's the non-academic side that has best prepared me for my job. It's difficult leaving home and starting a career in a new city where you can be quite isolated, but Lancaster has equipped me with the tools to make the transition easier. I've not felt completely overwhelmed by the change and think the help given by the university over my time there, has prepared me well for the 'real world'.
What impact has your Lancaster experience had on your career?
Quite simply the degree I have obtained has given me employment opportunities in the industry I want my career in. It has opened doors that would have otherwise been inaccessible.