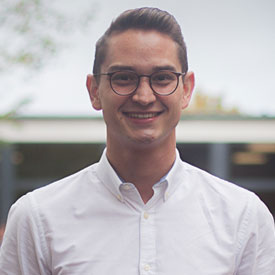 Erik Hanel
Country Of Origin: Germany
Degree: MSc Management, 2019
---
Doctoral Candidate and Research Associate , Otto-Friedrich-University Bamberg
---
Why did you choose to study at LUMS?
There were multiple reasons for me to study at LUMS. Besides a high reputation on a national and international level, Lancaster University is known for an excellent student experience which, having studied there, I can say is true.
What was the best thing about your course?
The highly diverse cohort and its team spirit that only grew stronger throughout the year.
What/who inspired you most at LUMS and why?
All my fellow students! I got to know so many different people with completely different backgrounds. This encouraged me more and more to take a look outside of the business bubble and engage with different topics.
Did you do a project, placement or study abroad? What did this involve and what did you gain?
As part of my scholarship, I was involved in multiple projects to improve the MSc Management programme. This not only helped me to develop better project management skills but also made it possible to have an actual impact and enhance future student experience.
Describe your time at LUMS in three words.
Unique, challenging, rewarding
What impact has your Lancaster experience had on your career?
Without Lancaster, I wouldn't have been in the position where I am today. Before I started my postgraduate degree I used to work in sales. During my time at Lancaster, my interest to pursue an academic career rose. Eventually, I got in contact with my now doctorate supervisor who offered me to work with him at Otto-Friedrich-University in Bamberg. Therefore my Lancaster experience greatly impacted my career.